Related publication: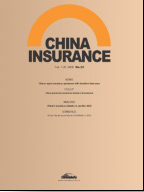 Related readings:


 Milestones in China's insurance sector


 Pacific Insurance reports Q3 loss on investment


 No assurance of success
As China has not lifted its curb on investments in overseas financial derivative markets, its insurance industry is not fully exposed to the impacts of the ongoing financial risks, but the subprime crisis has rung an alarm bell for Chinese insurance companies, said experts.
They added that to survive the difficulties, China's insurance industry should play up its role of assurance and focus on guarantee instead of investment. Meanwhile, despite possible risks ahead, insurers should not fully close up, but continue their opening up.
As for the concern over insurance companies' losses from equity investment, Luo Yi with China Merchants Securities said the impacts from the falling A-share markets are limited too, as insurance companies have acted promptly to adjust their investment strategies.
As of the end of the first half of 2008, the entire insurance industry's fund use balance was 2.706 trillion yuan ($395.7 billion), of which deposits were 697.8 billion yuan, accounting for 25.8 percent; bonds 1.451 trillion yuan, 53.6 percent; securities investment funds 185.54 billion yuan, 6.9 percent; and stocks and equity investments 290.5 billion yuan, only 10.7 percent.
The lower position of shareholding was due to two factors. On the one hand, the falling share prices sucked the book values of available-for-sale and held-for-trading financial assets, and on the other hand, insurance companies reduced the position and increased holding of bonds and deposits to control risks.
To prevent risks, the state regulator is moving slowly in approving Qualified Domestic Institutional Investors (QDII) quotas. Among the three insurance companies listed in the A-share market, the China Insurance Regulatory Commission only approved China Life and Ping An's QDII quotas, which are 2 percent and 15 percent respectively of their total assets as of the end of 2007.
Neither China Life nor China Pacific invested in bonds issued by Brothers Holdings, American International Group, and Merrill Lynch, the three United States financial giants that have failed amid the turmoil, marking the death of Wall Street.
However, Cheng Siwei, a renowned Chinese economist, has said that the financial turmoil shaking Wall Street is a result of various factors combined. As banks, investment banks, funds and insurance companies form financial fund chains in the United States, the insurance industry maybe the next victim of the crisis, he warned.
......
The full text is available in the October Issue of China Insurance.