The United States and China kicked off what is likely to be a global round of interest rate cuts, part of a barrage of measures deployed around the world to fight a deep economic slowdown.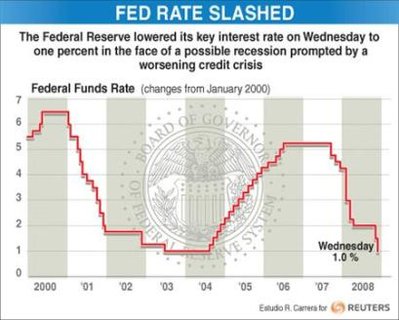 The US Federal Reserve cut rates by 1/2 a percentage point, in line with most analysts' forecasts. [Agencies]
Norway also cut interest rates on Wednesday and Britain indicated it may lift self-imposed limits on government borrowing to counter a recession that stems from the financial crisis triggered by the collapsed US housing bubble.
Japan may cut rates on Friday and the European Central Bank and Britain are expected to add to the monetary easing next week as authorities remain fearful that the worst financial crisis in 80 years will cause a long global recession.
US regulators are putting the final touches on a new federal program that could provide up to $600 billion in government guarantees of home mortgages to help prevent foreclosures, a source familiar with the talks said. The government hopes to announce the program as soon as Thursday, the source said.
The International Monetary Fund approved an emergency short-term liquidity facility for emerging market economies to help them weather the credit crisis.
The US Federal Reserve cut rates by 1/2 a percentage point, in line with most analysts' forecasts.
The Fed said the pace of US economic activity appeared to have slowed markedly and it expected inflation to moderate as a result of lower energy and commodities prices.
Major US stock indexes rallied more than two percent before falling back to close lower. Analysts said the rate cut had already been priced in and the outlook remains grim.
"Bigger picture, I don't think anyone believes that any interest rate cuts are going to affect the underlying issues surrounding mortgage-related and consumer-related credit," said Chip Hanlon, president of Delta Global Advisors in Huntington Beach, California.
China, increasingly appearing to be the world's last engine of economic growth, cut banks' benchmark lending and deposit rates by 0.27 percentage point on Wednesday, the third cut in six weeks, to prop up consumption and bolster the growth of its economy on the face of worsening global economic slowdown.
The benchmark one-year deposit rate would drop to 3.60 percent from 3.87 percent, while the benchmark one-year lending rate would fall from 6.93 percent to 6.66 percent.
The move would become effective on October 30.
Analysts say the move is aimed to reduce borrowing costs of enterprises, propel domestic investment, and it will also be conducive for theequitymarket.
The Chinese economy has been slowing down over the year due to weaker overseas demand and a slump of the real estate sector. The nation's GDP growth decelerated for 9 percent in the third quarter, the first time in single digit in five years.
The central bank also cut interest rates and reserve requirements on September 15 and October 8. The latter move coincided with rate cuts by leading central banks around the world.
Norway's central bank cut rates by half a percentage point to 4.75 percent, signaling more moderate cuts ahead to help shield the oil-fueled economy from the crisis.
WORLD STOCKS RISE, DOLLAR DOWN
The interest rate cuts, and expectations of action in the United States, lifted world stock markets and sent the US dollar plunging, sparking a 7 percent surge in oil.
Japan's Nikkei index ended up 7.7 percent and European shares climbed 7.5 percent.
Wall Street followed Tuesday's 10 percent rally, its second-biggest rise ever, with a volatile day. The Dow ended down 0.82 percent and the S&P 500 fell 1.11 percent, reversing a rally after the Fed cut.
The former head of the US National Bureau of Economic Research, Martin Feldstein, was quoted as saying the United States has entered a recession that will last longer and do more damage than any other since World War Two.
Economists expect US GDP figures on Thursday to show a 0.5 percent decline in July-September, according to the median of forecasts in a Reuters poll, and many see that as the start of a contraction lasting at least nine months.
Two of the largest US auto parts makers, BorgWarner Inc and Tenneco Inc, said the crisis would mean more job cuts and plant closings.