The central bank has cut interest rates for a second time in less than three weeks to bolster economic growth in the face of a worsening global financial crisis.
The benchmark one-year lending rate dropped to 6.66 percent from 6.93 percent, while the one-year deposit rate was lowered to 3.60 percent from 3.87 percent.
The revisions will come into effect today, the People's Bank of China said on its website last night.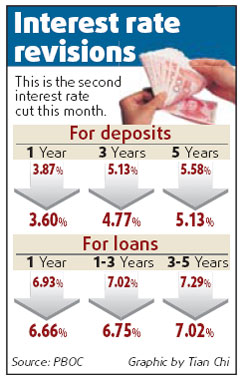 "The drastic economic slowdown during the past months is clearly crying out for more policy boosts and the move comes as the downside risk looms larger," said Zhang Xiaojing, an economist with the Chinese Academy of Social Sciences.
Weaker overseas demand and a slump in real estate have combined to slow the economy this year. GDP growth dropped to 9 percent for the third quarter, the first time it fell below double digits in five years.
The export sector, a major driver of growth, has been the biggest victim of the global economic slowdown. In the first three quarters, exports grew 22.3 percent, 4.8 percentage points lower than the same period last year. Analysts warn that if the global economy weakens further, export growth might dip into negative territory next year.
"The rate cut is part of concerted efforts by global central banks to stabilize the financial market," said Cao Yuanzheng, chief economist at Bank of China International. "They need to do so to restore confidence in the global economy."
The US Federal Reserve was last night widely expected to cut interest rates with the European Central Bank and the Bank of Japan tipped to follow suit.
Although China's banking sector has largely remained unscathed by the global credit crisis, the gloomy prospects of a slowing world economy appear to have dampened investor and consumer confidence at home.
"The government will put more emphasis on spurring domestic demand in the coming months," said Zhang, adding the effect of monetary policy is usually limited during a slowdown.
Earlier, the central bank on Sept 16 cut the cost of bank loans by 0.27 percentage point, the first time since 2002, and lowered the proportion of money lenders must have as reserves by 1 percentage point, the first such move in nine years, to keep the economy from sliding further.
On Oct 8, it cut both deposit and lending rates by 0.27 percentage point and, from Oct 15, reduced the banks' reserve-requirement ratio by 0.5 percentage point after some local banks were reportedly reluctant to make new loans.
The government has also raised tax rebates for more than one-third of its export portfolio, trying to provide relief to the manufacturers reliant on overseas demand. It also said it would increase spending on infrastructure projects, while introducing tax exemptions and reducing down payments to boost the falling real estate sector.