China's economic growth slid to a five-year low in the third quarter as a worsening global credit crisis puts the brakes on exports and threatens to drag annual growth to a single digit this year.
Related readings:


 GDP grows 9.9% in first three quarters


 China's fixed assets investment up 27% in Jan-Sept period


 CPI, PPI in China to drop in September
GDP growth dropped to 9 percent in the past quarter, the fifth consecutive quarter of deceleration and the first time in single digits in five years, the National Bureau of Statistics said Monday.
The figures were released a day after the central government announced a range of measures to maintain steady economic growth despite the global downturn.
"The world economy is gearing down substantially while the worsening international economic environment has exerted a negative impact on China," said Li Xiaochao, spokesman for the National Bureau of Statistics.
The third quarter slowdown was partially due to Olympic-related restrictions on transport, industrial production and tourism, and growth may recover in the fourth quarter, said Huang Yiping, an economist with Citigroup. "Nevertheless, the general trend of growth deceleration is indisputably clear."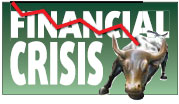 For the first nine months, the economy expanded 9.9 percent, down 2.3 percentage points from the same period a year ago.
The export sector, a major driver of the Chinese economy, has so far been the biggest victim of the global economic slowdown. In the first three quarters, exports grew 22.3 percent, 4.8 percent points lower than the same period last year.
Exports contributed about 3 percentage points to China's 11.4 percent economic growth in 2007 but some economists caution that export growth could dip to negative next year if overseas demand continues to shrink.
Over the past month, the government has cut the interest rate twice and also lowered the reserve requirement for local banks, which some analysts say reflects the authorities' concern about a further slowdown rather than inflation.
The latest figures will present the government with more leeway to adopt stimulus measures as consumer inflation eased to 4.6 percent in September, the lowest since last June.
The government said it will adopt a "flexible" and "prudent" macro-control policy in the fourth quarter and adopt financial, credit and foreign trade measures to maintain stable economic development, according to a State Council meeting presided over by Premier Wen Jiabao on Sunday.
In response to the woes of the export sector, the government plans to raise export tax rebates for labor-intensive products such as garments and textiles, as well as mechanical and electrical products with high-added value.
The government also said it would increase spending, especially on reconstruction in earthquake stricken regions, infrastructure development and social welfare. It will also reduce fees and taxes levied on housing transactions to encourage property purchases.