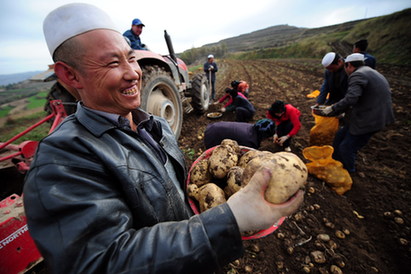 Farmers are picking potatoes in Dongxiang autonomous county in Gansu province, October 16, 2008. The Communist Party of China yesterday unveiled its broad policy document to revitalize the countryside. [Xinhua]
Farmers can transfer their land-use rights under a new policy to boost agricultural production and rural incomes, according to a landmark policy.
The Communist Party of China (CPC) yesterday unveiled its broad policy document - approved by a plenary session of the CPC Central Committee on Oct 12 - to revitalize the countryside.
Rural residents, who number more than 730 million according to the 2006 census, have ownership of the produce of their land but not the land itself, and are barred from trading land-use rights under current laws.
The document said markets shall be set up to allow farmers to sub-contract, lease, exchange and swap their land use rights, or join share holding entities with their farmland.
Such transfers of land-use rights must be voluntary with adequate payment and in accordance with the law, the CPC Central Committee said.
Under current law, farmland is collectively owned, but given to farmers in small plots under long-term leasing contracts.
But the present system is rife with abuse. Local governments have seized rural plots to sell to factories and property developers, often paying only minimal compensation to farmers.
Thousands of protests against land grabs every year have alarmed Beijing, prompting discussion on ensuring that farmers have greater security in land rights, if not outright ownership.
Giving farmers more scope to transfer or pool their land into bigger, more modern agricultural holdings would raise productivity and accelerate urbanization, economists say.
Such land transfers have already been taking place, formally and informally, in recent years.
When the document was being drafted, some argued that the new policy might create a few landlords and many landless farmers who will have no means to make living. Another concern was that arable land could be used for non-farming purposes, threatening the country's food security.
To allay such fears, the document said that the country would have in place "the most stringent farmland protection system" and urged local authorities to firmly safeguard the 1.8 billion mu (120 million hectares) deemed as a minimum.
The area of arable land shrank 610,100 mu last year to 1.826 billion mu, only slightly above the government's set target.
The CPC document also:
said the government will strive to double the per-capita disposable income of rural residents from the 2008 level to more than $1,200 by 2020.
urged more support be given to hasten the development of special rural cooperatives and turn them into modern agricultural organizations so that farmers are competitive in the domestic and overseas markets.
promised to revise laws to regulate and push forward rural land management reform in "a normative manner".
said the government wants to spend more on rural infrastructure and increase crop production. Farmers are encouraged to collectively raise cotton, sugarcane and potatoes in areas with suitable resources and environment, as well as raise production of edible-oil plants.
The plan also aims to ensure grain output stays above 500 million tons until 2010, and reaches 540 million tons by 2020.
loans and subsidies will be made available to companies which process produce such as frozen vegetables.
The rights and interests of migrant workers are also given priority in the document, which promised the CPC Central Committee will take effective measures to ensure they have same access to social welfare as urban residents in areas such as education, public health care and housing.
The Central Committee said it would further reform the household management system to reduce residency requirements for migrants working in more small- and medium-sized cities.
This way, ex-farmers who live in towns and cities with stable jobs could become urban residents.