Although there is panic and frustration, the ongoing world financial turmoil has provided China with a golden opportunity to deregulate its energy prices, the Shanghai Securities News quoted a senior economist as saying in Beijing yesterday.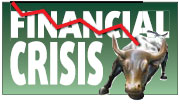 Wang Qing, Morgan Stanley's chief economist in China, said at an industrial forum that the world's shrinking energy demand due to a possible recession could lead to a big slump in international oil prices. China should seize this opportunity to reform its energy pricing system.
At present, domestic prices of refined petroleum products were mainly under government control. Although the authority has adjusted prices from time to time according to international crude price changes, the gap between domestic and overseas market prices still looms large given the volatile oil prices in recent years.
The benchmark crude oil contract on the New York Mercantile Exchange closed at $74.88 yesterday. The value of crude oil has slumped nearly 50 percent after hitting a record high of $147 a barrel in July.
Wang said China's huge energy consumption is a reflection of the country's industrialization and urbanization process. In addition, due to its abundant labor resources, the country has seen a rapid development of the manufacturing industry. All these have led to enormous energy consumption.
However, the real problem is not the amount of energy used, he said, but the principle to allocate the resources. According to Wang, if energy prices can reflect real market demand and supply, the degree of resource scarcity, and the opportunity cost of consumption, then the pricing system is reasonable. Economic growth based on this concept is sustainable and competitive.
Wang said the country planned to reform energy prices a long time ago but has been wary due to two factors -- surging oil prices and inflationary pressure. Given the vast uncertainties behind international crude prices, it's difficult to find an "absolute" low point to adopt the reforms. Moreover, as inflationary pressure eased with the falling consumer price index in the past months, it's the right time to launch the energy pricing reform, he suggested.
Once energy prices are deregulated, the impact of the price fluctuation on the economy will be neutral, he said. Taking refined oil for example, since 90 percent of the oil in China is consumed by industrial enterprises, the deregulation of oil price will reallocate profits between producers and users. The lower-stream companies that currently benefit from price regulations will lose some profits, while oil producers and refiners are expected to earn more from the price hikes.