When Wang Yang became the Party Secretary of Guangdong in December last year, he started exhorting officials to further liberate their thinking to maintain the province's position as the top economic power house in the country. This entailed liberating themselves from chasing high GDP growth and focusing on the welfare of the people.
One major push by Wang Yang, it seems, is in the realm of the environment. In the provincial Party Plenary Session in June, the proposal of working together with Hong Kong and Macau to build a "green Greater Pearl River Delta superior living circle" first cropped up. It was then put on the agenda in the annual summit meeting between Guangdong and Hong Kong in August.
Both Guangdong and Hong Kong are plagued by environmental problems, which cannot be solved by each administrative unit alone. Regional cooperation is therefore a necessity. There has been environmental cooperation between both after the latter's handover in 1997. It is however quite superficial, mostly on the level of information exchange. Now both sides see the need for closer cooperation, and are taking concrete steps to implement it.
Hong Kong is a service economy. Its environmental problems are typical of post-industrial cities. It has a lot to learn from past experiences of many Western cities. Guangdong on the other hand is an industrial province with much more diverse environmental issues. One striking aspect is that it is cleaning up the environment while carrying on industrializing at the same time. This phenomenon is unprecedented, and no reference can be drawn even from more advanced economies. It has to stumble along and find its own way. But with Hong Kong's international network and advanced financial infrastructure, it can provide Guangdong with the capital and technology when needed.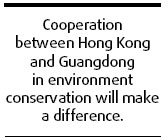 To start with, Guangdong and Hong Kong should work together to develop a common "ecological language", which will include common standards and measurements, common objectives and priorities, joint policy and compatible legislations. These will lay the foundation for further ecological integration.
From this basic platform, both regions will have to work together to access the carrying capacity of the Greater Pearl River Delta to plan its medium and long term development with due consideration for waste sinks for the more developed cities. In accordance with national policy, certain areas should be left untouched, forestry and agricultural areas should be conserved well above the mandatory requirements to give room for future development. At the same time, efforts should be made to conserve resources and reduce emission for the enhancement of the carrying capacity of the region.
In the process, regional treaties will be signed, and corresponding legislations introduced. Many new industries and enterprises will spring up, providing a new economic impetus to both area. This will in turn show up in GDP growth and high value-added employment in both regions. I shall cite just two examples here.
Solid waste recycling should be a regional endeavor. Currently, the recycling of paper, metal and plastic material seems quite profitable, and has been taken care of by the market. But with government incentive and regional cooperation, part of the operation can be upgraded to be more capital- and technology-intensive, rendering it more efficient and more environmentally friendly. The recycling of used tires and construction material on the other hand cannot pay for itself, and regional governmental intervention is badly needed. Without it, used tires are now utilized to make low-grade diesel fuel, causing greater damage to the environment. The regional governments should impose a unified levy on all new tires for their future recycling and set up a regional recycling centre in Guangdong for that purpose. Regional governments should also commit to buying back a certain amount of the recycled products. Operators should be chosen through open tenders to attract state-of-the-art technology from around the world. Similar measures should apply also to construction wastes.
Another hot topic is carbon trading. Until July 2007, Guangdong has 14 projects being approved by the National Development and Reform Commission under the Clean Development Mechanism (CDM) of the Kyoto Protocol. This amounts to only 4 percent of all CDM projects in the country, highly incommensurable to the province's economic size and its international openness. This demonstrates the high potential for the development of carbon trading in the Greater Pearl River Delta Region. At the moment, over 60 percent of Hong Kong's emission of carbon dioxide comes from its two power plants, amounting to 28.7 million metric tons a year. This is a good starting point for carbon trading in the region.
The author is a member of Hong Kong Special Administrative Region Basic Law Committee of the National People's Congress Standing Committee