Editor's note: China created 6.4 million jobs in the first half of the year, which represented 64 percent of the government's target of generating 10 million new jobs in 2008. Behind the rosy figures is the hard reality: employment is not only a longstanding problem for job hunters but also a new headache for employers. China Daily journalist Fu Jing discussed with Liu Junsheng, a senior researcher from the Labor-Wage Institute affiliated to the Ministry of Human Resources and Social Security, on the country's near- and longer-term employment prospects.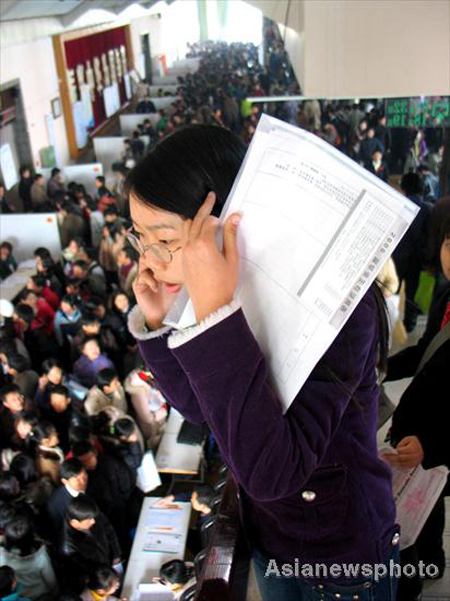 A student talks on a phone at a job fair in Nanjing, Jiangsu province in this file photo. [Asianewsphoto]
Q: Economic growth generates jobs. That's the bottomline for China's policymakers in this country with a huge pool of surplus labor. The government's efforts in cooling down the economy have paid off during the first half of this year and we can see the growth rate has slowed. Do you think the efforts have brought side-effects on employment?
A: The impact is obvious as many of China's factories are labor-intensive. And since last year, the government has been determined to close those labor-intensive but energy-crunching factories. The closure plan will be extended to 2010. So that is causing and will continuously result in unemployment. As you know, our economic growth rate has slowed down to 10.4 percent for the first half of this year, from 11.5 percent during the same period last year. The 1 percentage point drop means a loss of about 1 million jobs. If the trend continues in the coming months, more workers will lose their jobs.
Q: Sources close to the central government told me that the leadership has been describing the current employment situation as "unprecedentedly grave." Do you think the assessment is reasonable? Why?
A: Employment is challenging in China and this year, in my understanding, is extremely hard, as our country has experienced so many unexpected happenings. For example, the earthquake and snowstorms have closed down some enterprises. And also, the central government has laid down that those companies and factories with excessive production capacities should shut down, which has also caused many layoffs. And also you can see the closure of small coal mines, at least 10,000, also leaving miners and migrants jobless. On top of that, At least 5.59 million students have graduated from colleges this year, 13 percent more than last year, and they face unprecedented pressure in the job market as about 700,000 graduates, who could not find work last year, will compete with them for employment.
Q: From the employers' side, what other difficulties do they have to live with? For example, labor cost rises?
A: Along with the steady rise in labor costs, factories and companies also face the difficulty in finding "suitable hands" to feed the vacancies as some job hunters lack training. And for export-oriented companies, the appreciation of yuan has exposed them to difficulties in expanding business.
Q: China has a big population and now, there are some new trends in the labor market. For example, in some regions, labor shortages have occurred. What do you think about the long-term prospects for China's labor markets?
A: In the long run, it's competitive. Competitiveness comes from two fronts. One is among the job seekers and the other lies in the employers' competition for "ideal employees". In the urban regions, about 12 million new job seekers have swarmed into the market annually and in the rural region, 8 million new laborers will be pouring into cities every year. So the long-term prospects will not change by 2015 at least.
And so I think, for the next half of this year or even for a longer period, it's quite sensitive for China's decision-makers. I believe the government should try to balance cooling down the overheated economy and offering enough jobs for the growing working population. And the leadership should consider China's employment problems in the context of the country's industrial upgrade and the potential of the domestic market, which can further offer us new pools of jobs.
Q: For college graduates, the job market is not the same as their old sisters and brothers who were in their predecessors. What are your suggestions for them?
A: They need to adjust themselves to the changing China and the changing labor market. College graduates should be encouraged to work in western and rural areas where many jobs are available and those who have worked in rural areas for two years can enjoy favorable treatment in recruitment ingovernment organs and State enterprises, and get bonus points if they take the civil service exams. And we also encourage college graduates to start their own business, too, and get preferential treatment.