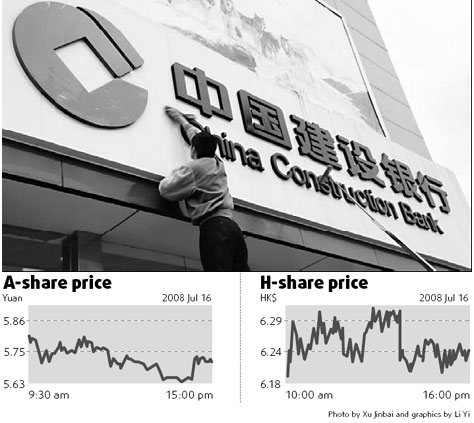 Economists have said Central Huijin Investment's sale of China Construction Bank (CCB) stake to Bank of America at a heavy discount should be seen in a wider perspective of management and other gains rather than a sell-out of national interests.
When Central Huijin, the largest shareholder of CCB, sold 6 billion of CCB's Hong Kong shares at HK$2.42 ($0.31) each to Bank of America on June 5, it triggered debate that the bank undermined State interests.
The stake was sold at a 64 percent discount, based on CCB's share price of HK$6.65 on the day. Many worried that if foreign players snap up equity in domestic banks, China's financial security will be at risk.
Pang Xiusheng, chief financial officer of CCB, brushed aside the charges, saying the equity sale was based on market principles. "According to market principles, articles have different prices at different times."
Though CCB shares were sold to Bank of America at a price lower than the market value, it was set according to an agreement in 2005 between the US lender and Central Huijin, said a statement filed by CCB to Shanghai Stock Exchange. Going by this agreement, the US lender has the right to exercise its call option at the price, the statement said.
Although the share sale has reduced Central Huijin's CCB stake to 65.4 percent and boosted Bank of America's to 10.75, the shares purchased under the call option cannot be sold until Aug 29, 2011, according to the agreement.
It's rational for investors to be concerned about State-owned assets, said Song Fengming, director of the department of finance and international trade at the Tsinghua University, but he urged them not to confuse the concepts of call option and arbitrage.
"We can't say the price is unjust. The international oil price is around $140 now, but last year it was around $70-$80. Prices change," said Wang Guogang, deputy director of the institute of finance with the Chinese Academy of Social Sciences.
"Inviting foreign strategic investors not only boosts a bank's capital reserve, but brings it advanced corporate governance and management, which is in line with a bank's long-term development strategy," said Xu Xiaonian, professor of the Euro-China International Business College.
Economists also argue that banking sector reforms and opening up has greatly helped the whole industry, given the great improvement in the sector's risk control, corporate governance and business management.