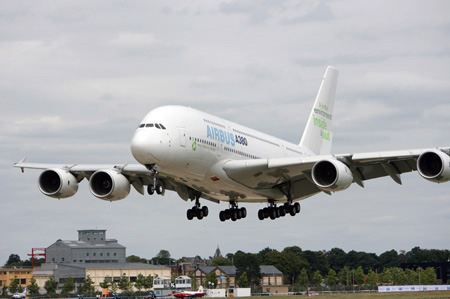 Airbus brings the eco-efficient doubledecker jumbo jet A380 to the Farnborough Air Show in South England on July 14, 2008. Airbus and Harbin Aircraft Industry Group Co will set up a joint venture early next year to produce aircraft composite material parts and components.[Xinhua]
Airbus and Harbin Aircraft Industry Group Co (HAIG) will set up a joint venture early next year to produce aircraft composite material parts and components.
The joint venture will be 80 percent controlled by HAIG, a company affiliated to China Aviation Industry Corp II (AVIC II), while Airbus will own the rest of the stakes. It will provide composite materials for Airbus A320 aircraft and participate in the industrialization and serial production of the A350 XWB work packages, due to enter service in 2013.
The two companies signed a framework contract on Tuesday at the 2008 Farnborough International Airshow in Britain.
"This project demonstrates once again Airbus' commitment to the long-term sustainable development of China's aviation industry. We will continue to expand our cooperation with the Chinese aviation industry in the future," said Laurence Barron, president of Airbus China.
HAIG, based in Heilongjiang province, is the country's largest manufacturer of composite materials for commercial airplanes and helicopters. A State-level composite structures research and application center was launched at HAIG last month.
Composite materials are playing an increasingly important role in aerospace components as they yield better fatigue and corrosion resistance and higher strength-weight ratios.
The Boeing B787 Dreamliner is the first major airliner to use composite materials for most of its construction. Half of the primary structure, including the fuselage and wings, are made of composite materials. The first B787 will be delivered in the third quarter of next year.
The A350 XWB will be the first Airbus aircraft with fuselage and wing structures made primarily of carbon-fiber-reinforced plastic.
The A350 XWB is Airbus' answer to B787 in the lucrative market for long-range, mid-sized, twin-aisle planes. China will design 5 percent of the airframe of the A350 XWB and the work packages are expected to include a high proportion of composite parts.
Boeing launched a composite materials manufacturing joint venture in Tianjin in 2002. The company, BHA Aero Composites Co Ltd, is 40 percent owned by Boeing, with Hexcel holding a 40 percent stake and AVIC I 20 percent. BHA and HAIG are producing composite parts for the B787.
Also on Tuesday, Shenyang Aircraft Corp (SAC), affiliated to AVIC I, signed a contract with Bombardier Aerospace to supply the center fuselage on the newly launched Bombardier CSeries aircraft. SAC will take part in the design, manufacture, assembly and testing as well as market support of four major work packages for CSeries.
The Canadian company announced the launch of the CSeries aircraft program on the eve of the airshow. It will produce 110-130-seat passenger planes to challenge smaller jets built by Airbus and Boeing.