As oil prices surge to record-shattering levels, the world's major aircraft manufacturers are building more fuel-efficient planes and turning to alternative fuels.
But Pierre Steffen, Airbus China's vice-president for customer services, believes aircraft makers could help airlines save costs not only by selling more advanced airplanes but also through customer services.
"Cost saving initiatives always need to be a complete process. Fuel cost is just one element of this. Another is spares management, logistics, flight operation and the quality of engineering processes," says Steffen.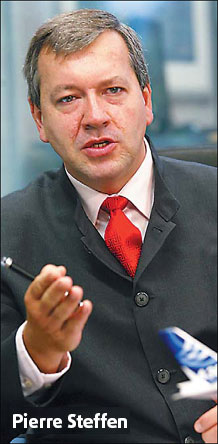 Airbus launched a door-to-door customized spares logistics service in China at the beginning of June. Using DHL as a forwarder for both domestic and international shipments, Airbus provides spare parts deliveries, including customs clearance, and takes full control of the supply chain for the customers.
It is the first time that an airplane manufacturer took the full responsibility for transporting spare parts for Chinese customers. Usually airlines transport spare parts themselves. The service is designed to reduce the logistical complexity and administration workload for customers, enabling them to shorten transit and turn-around time while concentrating on their core business.
An aircraft maintenance, repair and overhaul company based in Shanghai has signed up for the service. But Steffen declines to give the name of the company. He adds Airbus is "in process of signing two more customers".
"We believe that in the next three years we would have about 50 percent of all the spares transported under this program. The cost pressure will help us because it is more efficient for customers," Steffen says.
But Steffen also says the biggest concern for Chinese companies now lies in the fact that they have to pay for the transportation. "Most airlines say they transport both people and goods so they can handle their own spare parts, which does not cost anything. That is a one-side view," he says.
Due to the logistical complexity of spare parts and the country's import and export rules and regulations, Chinese airlines are forced to have a high level of spare parts in stock to counterbalance the negative effects of the longer transit time, which increases airlines' costs.
"Chinese airlines have 30 percent more spares on stock than air carriers in other parts of the world. That is because their transport (of spares) is not yet optimized," Steffen says.
Steffen says it is a challenge to change many Chinese airlines' way of evaluating costs.
"They still look too much at unit cost. For example, if a spare part costs $100. They would not pay $110 for it even though the price also covers door-to-door transportation," Steffen says.
"But in fact at the end of the day they must check the overall cost of the spare parts, including transportation, import and export procedures, storage and repair. By signing for our logistics service, they could optimize their transport, cut down transportation and transition time and lower their warehouse stock. They could reduce overall costs, much more than what they have paid for the transportation," he says.
The spares logistics service was developed at Airbus' spares support and service headquarters in Germany more than five years ago and has been introduced to Europe, the United States and Asia. Now about 45 airlines, including Lufthansa and Singapore Airlines, are using the service.