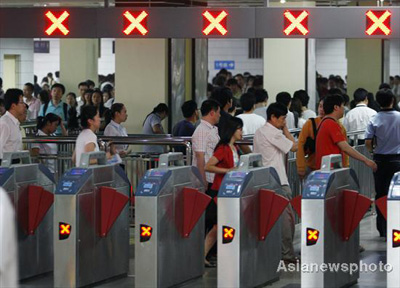 Beijing subway passengers will face security checks by machines, police or dogs at all subway stations from June 29 to September 20, the local authority said on Friday.
Guns, ammunition, controlled knives, inflammables, explosives and radioactive and poisonous articles will be the focus of the checks in the capital, the host city for the Olympics on August 8-24 and the Paralympics September 6-17, a subway spokesman said.
"The measures are taken to maintain the public order and ensure a smooth Olympics," the spokesman said.
In addition to police, the Beijing Mass Transit Railway Operation Co Ltd has trained about 3,000 personnel in the security checks, he said.
"Passengers who reject security checks or insist on carrying dangerous articles will be banned entry or exit and even punished by law," he said.
Local police earlier said passengers would have to drink bottled water and other beverages they carried into the subway if security machines and police dogs could not identify them.
According to Chinese laws and regulations, passengers are banned from carrying dangerous substances on board public transport, including buses, subways, trains and aircraft. Offenders can be detained for five to 15 days.
Beijing now has five subway lines with 140 km of track, transporting millions of passengers daily. It plans to add three subway lines this year and reach 200 km in length.