The current global trade regime is unfair to developing countries and runs counter to their development, a Nobel prize winning economist said on Friday.
And China has fallen victim to US double standards, as the United States repeatedly imposes dumping charges on Chinese products, professor of economics at Columbia University Joseph Stiglitz said.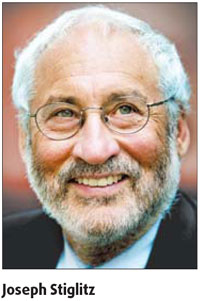 The world is watching the ongoing Doha Round - the WTO initiative started in 2001 to develop a global trade agreement easing trade in agriculture, manufacturing and services - but developed and developing countries are profoundly divided on some key issues. Agricultural subsidies, in particular, have cast a shadow over the talk's prospects.
The process has been stalled by an unfair global trade system that jeopardizes the interests of developing countries, which have stood up to safeguard what they deserve, Stiglitz said at the ceremony celebrating the anniversary of the Hanqing Advanced Institute of Economics and Finance at Renmin University of China.
Through WTO negotiations in recent years, he said, developed countries have continued selling "the old wine in the new bottle" to developing nations. The US and European Union have reneged on their promises to import products from developing countries, such as agricultural products.
They have also used tricks to circumvent trade liberalization, the professor said. The US, for example, raised its subsidies on domestic farming before it promised to cut them during WTO negotiations. However, the reduced subsidies were actually higher than those from before the hike.
"Agriculture is so symbolic of the hypocrisy of US and EU," Stiglitz said.
The US and EU are also pointing fingers at each other, accusing each other of having large agricultural subsidies and not reducing them fast enough. Both sides' cases have a grain of truth, the economist said.
Developed countries have taken advantage of their agricultural subsidies to support domestic farmers at the sacrifice of those in developing countries, he said, citing cotton as an example .
"While the US declared to believe in the free market," Stiglitz said, it has provided a total of between $3 billion and $4 billion in annual subsidies to the country's 25,000 cotton farmers. "Most of the benefits went to 10,000 (of the farmers)."
The US has become the world's largest cotton exporter, because the subsidies have driven down its cotton's price.
Consequently, about 10 million African cotton farmers would suffer, and millions of Indian farmers would also lose, he said.
Under the current trade regime, Stiglitz said, developed countries impose restrictions on imports of products they cannot produce, such as textiles, while opening up to products they have an advantage in producing, such as hi-tech electronics.