Inflation in February rose 8.7 percent year on year, the fastest monthly rise in more than a decade, China's National Bureau of Statistics reported on its website on Tuesday.
The accelerating price hikes, mostly contributed by skyrocketing food prices, have hardened the life of wage-earners and pensioners, Chinese analysts say, and will pressure China's central bank, the People's Bank of China, to increase benchmark interest rates, in the short run.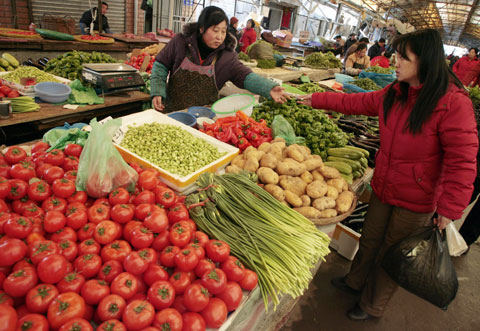 A customer buys vegetable at a market in Nanjing, Jiangsu province February 19, 2008. China's consumer price index (CPI), the major gauge of inflation, hit a new 11-year high of 8.7 percent in February on the back of skyrocketing food prices, announced the National Bureau of Statistics (NBS) Tuesday. [Agencies]  
The 8.7-percent rise, as compared with 7.1 percent going-up reported for January, is the most precipitous hike witnessed in more than 11 years. Xinhua News Agency said that the country's major inflationary index once rose by 14.1 percent from 1992 to 1996.
The steep price rises came after the worst snowstorms hitting southern and central China in five decades disrupted the economy and worsened food shortages. The statistical agency reported the prices of food rose more than 23 percent in February, with those of meat, eggs, vegetables, cooking oil and fruits increasing about 50 percent.
In addition to interest rate rise, the authorities are also expected to take other macro control measures to cool a surge in inflation that has been building since early 2007, triggered by a housing buzz and stock market boom.
Worrying about an ever increasing control on credit and other monetary instruments, China's stock market index has lost some 20 per cent since the beginning of the year. The Shanghai stock index plummeted more than 3 percent on Monday. Housing prices also stagnated in most of China's largest cities including Shanghai, Guangzhou and Beijing.
China's central bank has raised interest rates five times last year, trying to rein in money supply and curb inflation. However, the piecemeal rises, at 0.27 percentage points each time, have failed to make a dent on CPI.
"There is definitely room for further rate increases," said Zhou Xiaochuan, the central bank chief during a press conference on the sidelines of the annual session of the National People's Congress now in session in Beijing.
"The timing and the scale of any (rate) adjustment are critical factors to consider," Zhou was quoted as saying.
The bank chief, however, admitted that the recent aggressive rate cuts, by the United States Federal Reserve to prevent a likely economic contraction in the world's biggest economy, are restricting China's ability in raising the cost of capital.
The two countries' interest rates moving in opposite directions is expected to attract more hot money into China, complicating the country's efforts to keep its economy from overheating and tame inflation.