Premier Wen Jiabao pledged to cap China's consumer price index (CPI) growth rate within 4.8 percent in 2008 -- the average level of last year, to ease the country's mounting pressure of inflation.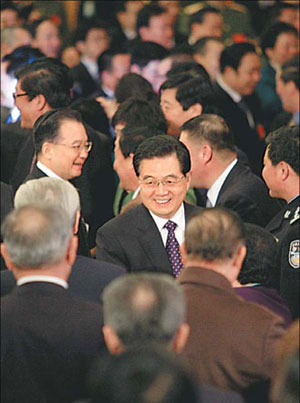 President Hu Jintao and Premier Wen Jiabao greet deputies at a preparatory meeting for the 1st session of the 11th National People's Congress in the Great Hall of the People on Tuesday. [China Daily]
The country's economic juggernaut will be steered to move at around 8 percent this year, on the basis of "improving the economic structure, productivity, energy efficiency and environmental protection", Wen said at the opening of the annual legislative session in Beijing on Wednesday morning.
"The current price hikes and increasing inflationary pressures are the biggest concern of the people... One major task for macroeconomic regulation this year is to stem prices from rising rapidly, " he said in his "state of the nation" address to the National People's Congress, China's top legislature.
To that end, the country will vigorously boost production of food, edible oil, meat and other necessities, strictly reining in the industrial use of grain and grain exports, while adequately increasing imports of major consumer products that are in short supply on the domestic market.
For 2008, China will follow a prudent fiscal policy and a tight monetary policy, to sustain steady and fast economic development and avoid drastic fluctuations in the economy, Wen told more than 2,000 people's deputies gathered at the Great Hall of the People.
The full two-week session of the legislature is an important occasion for legislators to debate and endorse legislation and national policies. Among their tight agenda, they will discuss and approve plans on reform of the agencies of the State Council – China's Cabinet, a move that Premier Wen hoped will help reduce responsibilities overlapping and boost government efficiency.
Details of government bodies realigning are not immediately available. Wen said the plans will explore ways to establish "larger departments", or so-called super-ministries, that organically integrate the functions of smaller departments. The reform also seeks to clearly define the responsibilities and powers of each department.
Driven largely by huge increases in food prices, China's CPI, a barometer of inflation, surged to 7.1 percent in January, a record high in 11 years. The CPI rose to the highest in a decade at 4.8 percent in 2007, according to the National Bureau of Statistics.
The premier said that because factors driving prices up are still at work, upward pressure on prices will remain great this year.
Meanwhile, with the production material prices climbing steadily, and a steep rise in realty prices, the country is confronted with a rather arduous task in holding down inflation this year, he said.
"So we must take powerful measures to increase effective supply while curbing excessive demand," he said.
These measures included instituting contingency plans for market supply and price, putting on hold the price surge in production materials, especially those for agricultural production, and subsidizing residents in the lower income bracket.