China Railway Construction Corp (CRCC), the country's leading rail builder, may raise as much as 22.25 billion yuan ($3.1 billion) in its initial public offering (IPO) in Shanghai.
Related readings:


Raiway contractor expects A shares to debut Mar 10


China Railway makes strong debut

China Railway steams 27% in HK


China Railway plans US$5.5b IPO


China Railway Construction set up for listing bid
In a statement to the Shanghai Stock Exchange late Sunday, the state-owned company said it has cut the number of A shares it is offering to 2.45 billion from 2.8 billion after reconsidering its capital demand.
The 2.45 billion shares represent 23.44 percent of CRCC's outstanding capital. The firm had built nearly 34,000 kilometers of rails by the end of 2006, more than half of all the rail links built nationwide since 1949.
On February 14, CRCC was given green light by the China Securities Regulatory Commission to issue no more than 2.8 billion A shares on the Shanghai Stock Exchange.
The IPO price range was set between 8 to 9.08 yuan and it translated into 26.92 to 30.56 earnings multiples after the domestic share sale, according to the statement.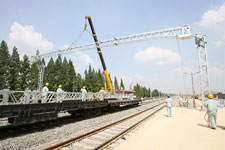 The company would start to receive from institutional investors orders for its 612.5 million shares, or 25 percent of the offering, on February 25 and 26. The retail investors would be able to subscribe for the remaining shares on February 26, the statement noted.
CRCC also planned to sell no more than 1.71 billion H shares in Hong Kong.
The company established its name by building the Qinghai-Tibet railroad, Shanghai maglev rail line and the Beijing-Kowloon railway. It also took the largest share in the bidding for the construction of the express railway linking Beijing and Shanghai.
Its total assets amounted to 155 billion yuan by the end of November 2007, with net profit reaching 2.8 billion yuan.