China's economy will experience only a moderate slowdown in 2008 because its diversified exports and strong domestic demand will help it stay resilient amid a weakening world economy, economists said yesterday.
Related readings:



 NDRC: China economy shows no sign of overheating


 China economy remains in 'good shape'


 Central banks warn of China economy risk


 ADB: China economy to slow moderately
"We expect the Chinese economy to grow by 10 percent this year despite a US-led global economic slowdown," said Liang Hong, an economist with Goldman Sachs in Hong Kong. "Strong domestic demand, especially investment growth, is expected to sustain the overall GDP growth, though the export growth is set to slow down."
China has an average GDP growth of 10.6 percent over the past five years, thanks to its blistering export growth and strong investment. Yet the worsening US subprime crisis is stoking concerns that the world's fourth-largest economy may loose its steam when American consumers tighten their purse strings against Chinese goods.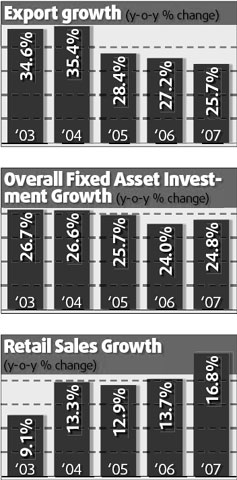 China's GDP was never that "coupled" with US growth, Bank of America economist Wang Tao said, because its exports have been diversified in destination and products.
A Standard Charted Bank report says the US now accounts for only about 16 percent of China's exports, compared to 25 percent in 2001. Booming emerging markets, including Latin America and Africa, now buy about 37 percent of the steel, clothes and electronics it exports.
Domestic manufacturers' rising competitiveness may help them expand in the global market, thanks to enhanced technological innovation and rising labor productivity. Machinery now comprises more than half of China's exports, compared to less than one-third in the early 1990s.
"The slowdown in economic growth will reduce overall imports by the US but increase its demand for low-end and inexpensive goods," said Mei Xinyu, a researcher at the Chinese Academy of International Trade and Economic Cooperation, a think tank affiliated to the Ministry of Commerce.
In fact, China's exports to the US are likely to increase, he said, citing the fact that they have increased steadily even though the US economy began slowing from late 2000.
China's overall exports may slow down, but experts say strong domestic demand will continue to play a more important role in propelling the economy.
"Strong domestic demand appears to have become a good cushion against slower external demand," said Gong Fangxiong, an economist with Morgan Chase Bank, Hong Kong. "And in 2008, we look to another year of solid economic growth at 10.5 percent.