China Investment Corp (CIC), the nation's state-owned forex investment firm, said late Wednesday that it has agreed to invest $5 billion in the No 2 US investment bank Morgan Stanley.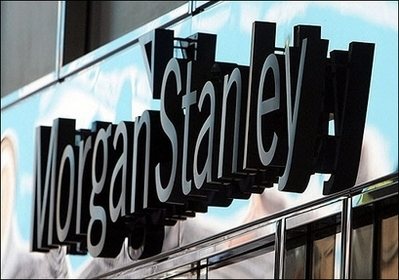 A sign hangs at Morgan Stanley Inc headquarters in New York City in this file photo. [Agencies]
The Chinese firm, which invested $3 billion earlier this year in the US private equity firm Blackstone Group, will purchase equity units that are mandatorily convertible into 9.9 percent of Morgan Stanley common shares.
The equity units carry a fixed annual interest rate of nine percent before conversion on August 17, 2010.
The purchase is "a long term, passive financial investment" and does not lead to a role in management of Morgan Stanley, said a statement from CIC.
"It is a good opportunity to invest in US-based financial institutions, many of which are being undervalued when the subprime mortgage crisis has had an impact on them," Li Yang, director of the Institute of Finance and Banking under the Chinese Academy of Social Sciences, said.
Special Coverage:

Markets Watch
Related readings:


 Minister: CIC to make prudent investment


 CIC to be stable force in global financial market


 China Investment denies Rio Tinto bid


 China Investment Corp unveils investment plan
Also on Wednesday, Morgan Stanley reported a larger-than-expected loss in the fourth fiscal quarter due to a $9.4-billion writedown from its exposure to subprime and other mortgage-related investments.
It lost $3.61 billion in the fourth quarter, compared to a profit of $2.27 billion in the same period a year earlier.
"CIC believes that Morgan Stanley has potential for long-term growth, particularly in its investment banking, asset management and wealth management businesses, as well as new business development opportunities in emerging markets," said the statement.
The purchase is made in accordance with CIC's global investment strategy, which is to seek attractive long-term returns with acceptable risks, it said.
CIC will maintain a cautious investment strategy, Finance Minister Xie Xuren said last week at the China-US high-level economic talks. "It will pursue long-term investment instead of short-term speculation, and will achieve a balance between security and profitability."
China Investment Corp was set up in September this year, with an initial capital of $200 billion from the country's massive foreign exchange reserves.
One-third of the capital would be used to purchase Huijin Investment Co, an investment arm of the Chinese government, and another third would be injected into state-owned banks for shareholding reforms, CIC chairman Lou Jiwei said.
The remaining $70 billion was earmarked for overseas investment in a wide range of portfolios but would not seek control, he said.
Earlier this month, CIC made its second investment this year of about $100 million in the initial public offering of the China Railway Group in Hong Kong.