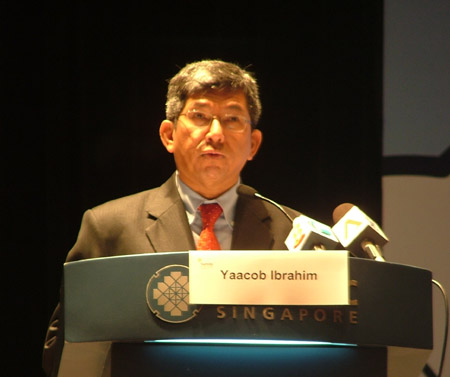 Yaacob Ibrahim, Singapore's Minister of the Environment and Water Resources, delivers a speech at Carbon Forum Asia, which opened in Singapore on November 6. [chinadaily.com.cn]
Tackling global warming through cutting greenhouse gas (GHG) emissions is a global challenge that can only be achieved through strong collaboration, keynote speakers told a high-level forum that openedopening today in Singapore.
At the Carbon Forum Asia 2007, over 120 leading companies and organizations from 26 countries will present their services, products, projects and GHG abatement technologies and solutions from 26 countries. More than 1,200 participants from 50 countries attended the event.
Organized by the International Emissions Trading Association and Koelnmesse GmbH, the forum has invited over 120 speakers towho speakoke atin seven plenary and 12 workshop sessions.
Keynote speakers and panelists included Edwin Khew, Chairman, Sustainable Energy Association Singapore; Wolfgang Kranz, Executive Vice President, Koelnmesse GmbH; Andrei Marcu, President & CEO, International Emissions Trading Association; and Yvo do Boer, head of the UN Framework Convention on Climate Change.
Many participants atof the Conference in Bali are also presenting at the Carbon Forum Asia, including the United Nations Framework Convention on Climate Change, providing delegates with invaluable insights into the regional platforms for carbon trading, the future of carbon emissions trading in Asia, types of renewable energy projects that are eligible for carbon trade, as well as the path forward for Clean Development Mechanism in Asia.
The forum offers participants the chance to share experiences on GHG abatement projects and learn from developing and developed countries. Various technical presentations and project options for the CDM are being discussed duringalso fundamental to the two-day forum.