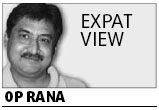 President Hu Jintao talked a lot about scientific development before the 17th National Congress of the Communist Party of China (CPC). In fact, the 16th CPC Central Committee initiated the Scientific Outlook on Development in 2003. Today, it has become an integral part of the theories of socialism with Chinese characteristics, along with the Deng Xiaoping Theory and the important thoughts of Three Represents.
But the concept of scientific development is much older in terms of its relationship with socialism. The concept was introduced in Karl Marx and Friedrich Engels' German Ideology and Engels' Socialism: Scientific and Utopian.
It has almost always been assumed (erroneously) that there can be no progress without the conquest of nature. But Marx outlined a more rational approach to our current environmental crisis, results of our boundless exploitation and general disregard for nature. Contrary to popular belief, Marx didn't care only about industrial growth and the development of economic forces. He was also deeply concerned about the changing human relationship with nature. In reconstructing a materialist understanding of nature and society, Marx offers a more lasting and sustainable solution to the environment crisis.
Marx looks to the rift between humans and the earth to understand the material estrangement of people from nature. The schism between city and village under capitalism due to the separation of the masses from the soil is one manifestation of this metabolic rift.
And this metabolic rift, says Marx, gives rise to the problem of sustainability. In Volume I of The Capital, Marx writes: "Capitalist production, therefore, develops technology, and the combining together of various processes into a social whole, only by sapping the original sources of all wealth - the soil and the laborer."
But, for Marx, the metabolic rift is not confined to the soil. Marx's account of sustainability addresses the metabolic rift in its entirety, addressing problems such as pollution, deforestation, desertification, climate change, waste recycling, and commodification of species. Sustainability as we understand it today means conservation and restoration of planet Earth so we can pass it on to the next generations in a livable state.
Today this metabolic rift has reached heights beyond the imagination of Marx. Climate change, as the UN noted in its Inter-governmental Panel on Climate Change, has reached an almost irreversible stage. But a sustainable relation with the Earth is still within reach. Sustainability, however, cannot be achieved without changing our social relations.
This year, in his report to the 17th CPC National Congress, Hu said: "In keeping with the changes in domestic and international situations and in light of the expectations of people of all ethnic groups for a better life, we must set new and higher requirements for China's development based on the goal of building a moderately prosperous society in all respects set at the 16th CPC Congress." China will continue to power the engine of economic growth by quadrupling the per capita value of the 2000 gross domestic product by 2020, he said.
This translates into rapid growth. But it also represents a change in ideology. Previously, China's growth was without limits. But now it will be put on a leash, as Hu said development would be subject to provisions of reduced resource consumption and greater efforts in environmental protection, all in an effort to promote a better society.
The author is a senior editor at China Daily
(China Daily 10/22/2007 page7)