China's two stock-oriented funds under the qualified domestic institutional investor (QDII) program are expected to be launched by Huaxia Fund Management Co Ltd and Harvest Fund Management Co Ltd soon, according to today's the Shanghai Securities News.
The two funds are waiting for the official approvals from the State Administration of Foreign Exchange (SAFE).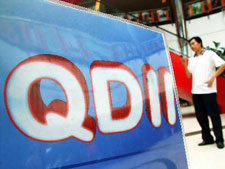 Huaxia QDII product, expected for launch next week, would be the second stock-oriented QDII product after that of China Southern Fund Management Co Ltd.
China International Fund Management Co Ltd is also preparing to launch QDII products.
The Huaxia Fund is applying to increase the quota to US$4.5 billion, exceeding the scheduled limit of US$2.5 billion.
The Harvest Fund also wants to increase its quota to US$4 billion or US$5 billion from the approved US$2.5 billion.
The Huaxia Fund can invest in developed and emerging markets, and its investment in stocks and other equities will not be less than 60 percent of the fund's assets.
The Harvest Fund, awaiting approval, will focus on the H shares, red-chip shares and Chinese stocks listed in the United States and Singapore.
China Southern Fund Management Co Ltd said the SAFE had officially approved its application to increase the fund sale, as subscription was near to 50 billion yuan (US$6.67 billion) in the first day, far exceeding the scheduled limit of 15 billion yuan.
China Securities Journal reported earlier that China would experience a QDII fund sales peak as China Assets Management Company, Harvest Fund Management and China International Fund Management launched QDII fund products and other fund firms received regulatory approval to launch QDII funds.