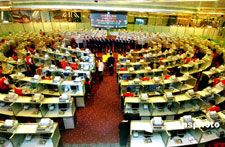 Individual investors from the Chinese mainland are likely to be able to start trading in Hong Kong shares next month, the Shanghai Securities News reported on Thursday.
There is little chance the government will launch the scheme this month as many issues need to be improved, the newspaper cited an unnamed authoritative source as saying.
The project could begin as early as the week after the National Day holiday that lasts from October 1 to 7, the source added.
The State Administration of Foreign Exchange announced on August 20 that mainland individuals would be able to trade directly in HK shares through the Tianjin branch of Bank of China (BOC) amid efforts to reduce the country's huge foreign exchange reserves and excessive liquidity.
Zhu Min, vice president of BOC, has said the preparations have gone smoothly, but it has taken some time to test the settlement system and educating investors in the risks.
The People's Bank of China is yet to introduce anti-money laundering measures for residents trading in HK shares, the newspaper said.
Industrial and Commercial Bank of China, China Construction Bank, Bank of Communications and China Merchants Bank have also filed applications to conduct the business.