Major Chinese stock indices suffered their greatest loss in four weeks on Wednesday, a result of a sizeable sell-off and internal corrections, after surging nearly 1000 points in the last month.
The benchmark Shanghai Composite Index continued its booming trend in the morning with a record-high open of 4488.77 points, but failed to hold on under huge selling pressure. After briefly touching the 4500 point level midmorning, the index began a steep dive that continued through remaining trading hours. It plunged downward to 4300 points and reached the day's lowest of 4284.87 points before close. Although bargain hunters pushed the index up a little to 4300.56 in the end, the index still lost 170 points or 3.81 percent within the day, the largest since July 5. Trading value of the market climbed to 173.2 billion yuan, some of which is attributed to panic selling in the afternoon.
The Shenzhen Component Index also took in a huge downturn of 2.66 percent and closed at 17495.2 points, with a turnover of 96.6 billion yuan.
                       Shanghai Composite Index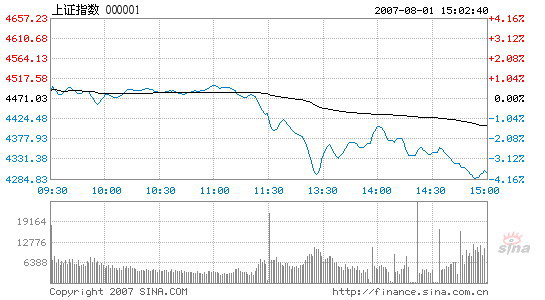 Shenzhen Component Index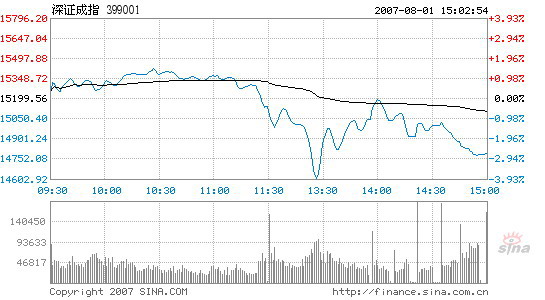 Profit-taking dominated the market today. Of all the stocks, only 147 closed up, 113 unchanged. The rest 1199 went down. Stocks that saw huge rises in the past days suffered the most, and some even ended at the loss limit of 10 percent.
Sectors of metal, coal and securities incurred an average loss of over three percent today. Haitong Securities, which just finished its backdoor listing process yesterday, fell 6.68 percent to 48.20 yuan. Chalco, the nation's leading aluminum producer also failed to maintain yesterday's jump and dropped 5.62 percent.