Chinese stocks kept from sliding downward further today on the news of a lift on insurers' stock investment upper bound, with the Shanghai Composite Index rising 1.96 percent to 3,896.19.
Total turnover of stocks on the major indices was 94.3 billion yuan, bigger than that of yesterday, but still the third lowest in four months.
Shanghai Component Index
Source: www.sina.com.cn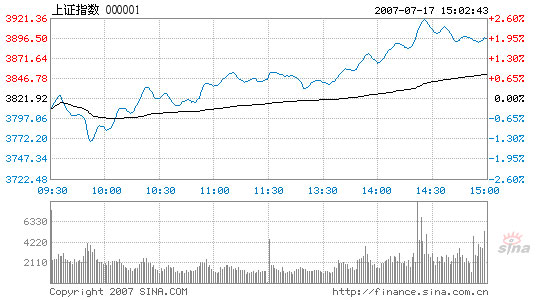 Opening lower at 3,809.56, the benchmark index plunged to 3,767.22 soon after the start, but then turned up and surged in waves to hit the highest 3,919.78 near the close. However, it didn't stay on the above 3,900-point level and finished 74.28 points higher than yesterday's closing.
Of the A shares listed in Shanghai, as many as 718 went up, while 76 dropped and 46 ended flat. Shanghai Xinmei Real Estate rose 10.07 percent to 7.43 yuan as the top gainer, followed by Wuhan Hanshang Group and Huafang Textile, also sealed at the maximum growth cap of 10 percent. Hunan Haili Chemical Industry, however, lost 8.92 percent to lead the day's losers.
China Minsheng Banking Corp, expected to review strong growth in profits in its first half-year report, was the largest trader today, both in terms of trading volume and transaction value. Its share price went up 0.67 yuan or 5.7 percent to 12.39 yuan.
Shenzhen Component Index
Source: www.sina.com.cn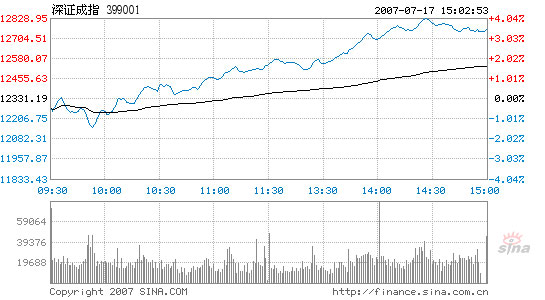 The Shenzhen Component Index, tracking the smaller Shenzhen Stock Exchange, opened lower at 12,268.04 but closed at 12,759.98, up 428.79 points or 3.48 percent. It went through the day within a range of 12,153.83 to 12,824.74.
Of its A shares, 479 were up, 70 down, and 66 unchanged. Jiangsu Fasten ranked on top of the surging shares with a 10 percent rise while Sundiro Holding lost 10 percent to lead the fall. China Vanke, the largest trader, hiked 10 percent to drive the index up.
Stocks in the real estate, finance, and media industries performed better than the others. Together with Shanghai Xinmei and China Vanke, Meidu Holding and Beijing Tianhong Baoye Real Estate led over 60 real estate developers on the surge. All banks, one of the two insurers - China Life, and two of the three securities houses - CITIC and Hongyuan, were up today.
B shares were strong, too. Of the 109 listed B shares, 90 went up and eight ended flat. Closed-end mutual funds listed on the exchanges surged, with both the indices down over 1.6 percent.