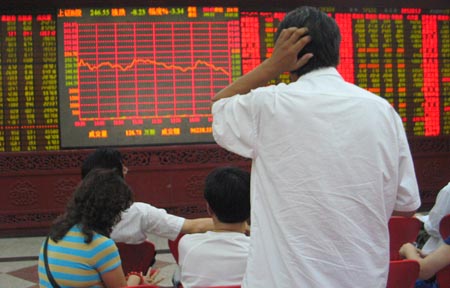 Investors at a stock exchange in Beijing are disappointed by today's stock performance. [newsphoto]

Chinese shares continued yesterday's decline and dived sharply Thursday as lack of confidence and worries about further tightening policies drove investors into panic selling.

The benchmark Shanghai Composite Index opened at 3,769.64 points, 46.53 lower than yesterday's close. Without a decent effort to recover yesterday's losses, the index dove further to 3,697.97 points in the morning session. Panic grew further in the last trading hour, knocking the index down to around 3,600. The index closed at 3,615.87, nearly the day's lowest point, tumbling 200.29 points or 5.25 percentage points.The daily transaction volume remained at a low level of 73.76 billion yuan (US$9.7 billion).

The Shenzhen Component Index, tracking the smaller Shenzhen Stock Exchange, followed suit by falling 725.56 points and closed at 11,783.58, with a turnover of 11.24 billion yuan. The combined transaction volume of both markets is merely 85 billion yuan, the lowest in the past three months.

Of all the A-shares in both markets, only 78 stocks closed in the red and 113 remained flat, while the number of the stocks in deficit soaring to 1,262,among which over 300 stocks closed at the lowest limit of share prices.

Contrary to previous performances, some blue-chip companies led the drop today, suggesting some institutional investors began to doubt the future trend of the market after one month of corrections. Large companies like Sinopec and Baosteel were among the biggest losers of the market. Sinopec retreated 7.22 percent, to 12.33 yuan, while Baosteel, China's biggest steelmaker, fell 5.79 percent, to 10.74 yuan.

Special coverage:
Markets Watch
Red Chips Return

Related readings:


More non-tradable shares unlocked

The long road to index futures trading

Cross stock holdings of listed companies under spotlight


Individual gold trade this month

However Special Treatment (ST) stocks, shares of companies that failed to earn profits for two years or have been fingered for false accounting began to recover after an average 50 percent drop in the past month. ST Huaguang, ST Tianqiao are among the top gainers of the market.

Although an official from the Ministry of Finance denied today that the issuance of US$200 billion yuan special bonds aimed at cooling the stock market, liquidity concerns and uncertainty with the policy still haunt investors, especially after the sudden increase of stamp tax on share trading on May 30.

| | | |
| --- | --- | --- |
| 1 | 2 | |
(For more biz stories, please visit Industry Updates)