Special coverage:
Markets Watch 

Related readings:
 Stocks close up, with lowest turnover since May 29
 Monday index down 3.68%, with lowest trading volume for June, 06/25
 Stocks dive 3.29% on largest single-day plunge since June 4
Chinese stocks formed a clear growth trend in the second half of the trading session today, after intensive but short-ranged fluctuations in the morning. The Shanghai Composite Index climbed 105.23 points to 4,078.60, up 2.65 percent from yesterday's closing.
Total turnover of the stocks enclosed by the two major indices was 197.5 billion yuan, higher than that of yesterday, but still one of the lowest figures in a month.
After opening higher from 3,985.72, the benchmark index had short-spread swings during the morning, hitting the lowest point at 3,948.29 at the mid-session. In the afternoon, it started to climb up in waves and reached the highest of 4,090.72 near the closing, but dropped a little afterwards.
Shanghai Composite Index
Source:www.sina.com.cn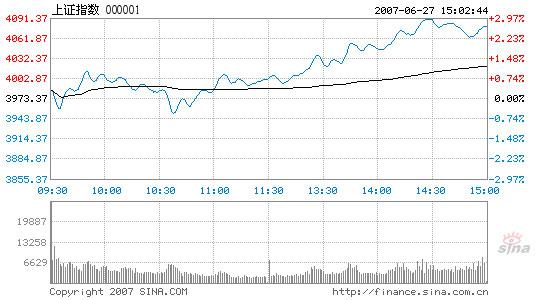 Of the A shares listed in Shanghai, 659 went up, 121 dropped and 59 finished unchanged. Hunan Huasheng was up 10.06 percent on top of the gainer's list. Hubei Wuchangyu and Chongqing Three Gorges Water Conservancy and Electric Power were also sealed with the maximum growth cap of 10 percent. Xishui Strong Year, on the other hand, dropped 5.65 percent as the biggest loser.
China Minsheng Banking Corp was the largest trader, both in terms of trading volume and transaction value, and saw its share price hike 5.22 percent to 11.70 yuan. The Industrial and Commercial Bank of China, following Minsheng in trading volume, added up 0.11 yuan. China COSCO continued marching north today, and rose 10.08 percent to 18.02 yuan, after a 93 percent jump in share price on its debut yesterday.
The Shenzhen Component Index, tracking the smaller Shenzhen Stock Exchange, opened higher from 13,309.34 and closed at 13,583.70, up 364.29 points or 2.76 percent. It went through the day within a range from 13,154.50 to 13,641.98.
Shenzhen Component Index
Source:www.sina.com.cn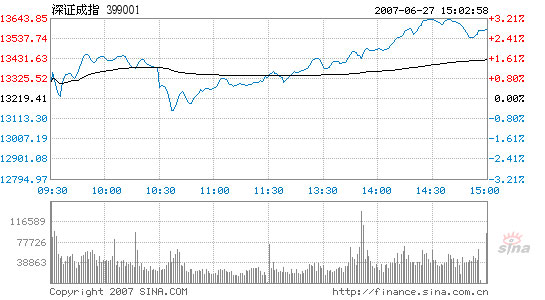 Beijing Centergate Technology Holdings rose over 10 percent to lead the surge while Anhui Feiya Textile Development dropped nearly 10 percent on the bottom. TCL, with the largest trading volume in Shenzhen, and China Vanke, with the largest transaction value, were both down more than 4 percent.
Stocks in the agriculture, construction and food industries were the best performers. Yuan Longping High-Tech Agriculture pioneered the agricultural sector in with a 10 percent surge. Mining shares were also strong.
B shares finished mixed. Of the 109 listed B shares, 44 went up and seven ended flat. Anhui Gujing Distillery was against the biggest gainer. Closed-end mutual funds moved up today.