Special coverage:
Markets Watch 

Related readings:
 Stocks up with lowest turnover this week, 06/21
 Stocks lose 4,200-point ground after sudden divings
 Stocks edge up amid price correction, 06/19
Amid wide-spread anticipation of further tightening monetary measures over the weekend, Chinese stocks plunged 3.29 percent today, the third largest single-day drop since May 29, when the stamp tax rate was raised to 0.3 percent, and the largest slump since June 4.
Total turnover of the stocks enclosed by the major indices was 255.2 billion yuan, slightly higher than that of yesterday.
The Shanghai Composite Index closed at 4,091.45, down 139.38 points. Opening flat from 4,230.97, the benchmark index ran through the morning session with frequent short-ranged fluctuations. In the afternoon, however, a 100-point dive in 10 minutes suddenly dragged it down to the lowest point at 4,024.49, soon before the closing. A few surges in the remaining minutes didn't reverse the trend. The index once hit 4,249.43 as the daily highest point, only 19 points higher than the opening.
Shanghai Composite Index
Source:www.sina.com.cn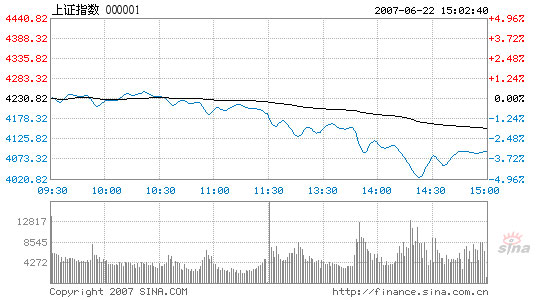 Of the A shares listed in Shanghai, as many as 1,1856 went today while only 95 rose and 48 finished unchanged. Zhejiang HSD Industrial surged 10.05 percent to 10.07 yuan on top of the gainer's list. Qingdao Soda Ash Industrial and Xiamen Prosolar Technology were also sealed at the maximum cap of 10 percent rise. Jiangsu Yueda Investment, however, dropped 10.05 percent on the bottom.
China Unicom, with the largest trading volume, was down 0,22 yuan while Younger Group, with the largest transaction value, lost 4.72 percent to 43.42 yuan.

The Shenzhen Component Index, tracking the smaller Shenzhen Stock Exchange, finished at 13,725.72, down 3.72 percent. It went through the day between a range from 13,423.24 to 14,238.10, both lower than that of yesterday's closing.
Shenzhen Component Index
Source:www.sina.com.cn

Of its A shares, 58 went up while 490 closed down and 65 unchanged. Tangshan Ceramic rose 10.04 percent as the biggest gainer. Zhejiang Qianjiang Motorcycle dropped 10 percent to lead the fall.
Hualing Valin Steel Tube and Wire, with the largest trading volume, was up 0.41 yuan. Shenzhen Development Bank went up against the trend, with the largest transaction value, surging 3.18 percent to 35.4 yuan.
Shares in the finance, food and pharmaceutical industries led the few gaining stocks. Shanghai Pudong Development Bank was up 2.72 percent and the listed insurers China Life and Ping An were both up.
B shares fell. Of the 109 B-shares listed on the exchanges, only five were up and four flat. Anhui Gujing Distillery saw a perfect 10 percent rise to lead the few growing stocks. Closed-end funds also dropped, with both the fund indices plunging more than 1 percent.