Chinese stocks grew steadily on a clear upward trend with few deviations today. Total turnover of the stocks enclosed by the major indices hit 339.4 billion yuan, the highest since June 4.
The Shanghai Composite Index closed at 4,176.00, up 104.34 points or 2.56 percent from yesterday's closing.
The benchmark index broke the 4,100-point right from the start and went through the day above that level. Opening 38 points higher from 4,110.74, the index hit the daily lowest point at 4,102.04 soon after the opening but then climbed all through to the closing . It touched the highest 4,193.45 near the closing but failed to stay.
Shanghai Composite Index
Source: www.sina.com.cn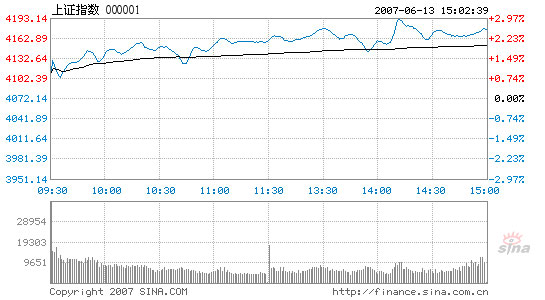 At the Shanghai bourse, as many as 678 stocks saw their prices rise, while 100 fell and 61 ended flat. Longjian Road and Bridge rose 10.07 percent to 6.01 yuan as the top gainer. Luoyang Glass and HIT Shouchuang Technology were also sealed at the maximum rising cap of 10 percent. Zhejiang Hangxiao Steel Structure, however, dropped 4.94 percent against the trend on the loser's list.
Special coverage:
Markets Watch

Related readings:
Stocks rise for 6th day, regain 4,000-point foothold
Stocks move closer to 4,000-point mark
Stocks finish above 3,900 points
Largest transactions were seen on bank shares. The Industrial and Commercial Bank of China, with the largest trading volume, rose 0.22 yuan or 4.35 percent to 5.28 yuan, on a relatively rare occasion to see a large growth for the heavy weight index-driver. China Minsheng Banking Corp, with the largest transaction value, added 0.25 yuan to its share price.

The Shenzhen Component Index, tracking the smaller Shenzhen Stock Exchange, ended at 13,811.48, up 231.76 points or 1.71 percent, as a new record high in history. It went through the day within a range from 13,671.07 to 13,984.59.

Shenzhen Component Index
Source: www.sina.com.cn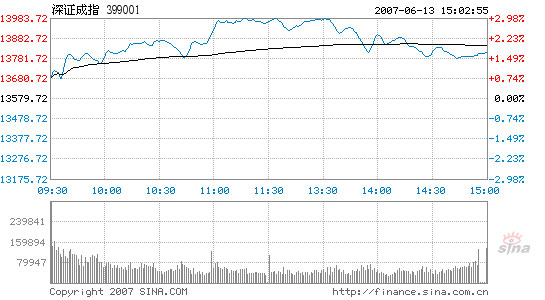 Of its A shares, 469 went up, 76 down and 68 unchanged. Shenzhen Shiyida Technology saw its price more than doubled to 32.15 yuan on its first public trading day. Another new share, Shenzhen Sunlord also had a 150 percent rose. While Yinxing Energy dropped 3.54 percent to lead the fall. China Vanke, with both the largest trading volume and transaction value, went up 5.45 percent to 19.55 yuan.
Stocks in the real estate, transportation and textile industries gained the most from today's trading. Dongguan Winnerway Industrial Zone had a perfect 10 percent rise to pioneer the real estate sector. Financial shares had extraordinary performance: except Ping An Insurance, all the banks, insurers and securities brokerages were on a surge.
B shares ended up. Of the 109 B shares listed on the two exchanges, only eight went down. SVA Electron surged 10.07 percent to lead the others on the B-share ranking list.

| | | |
| --- | --- | --- |
| 1 | 2 | |
(For more biz stories, please visit Industry Updates)