After Friday's adjustments, Chinese stocks laddered up toward the 4,000-point psychological mark today. The Shanghai Composite Index closed at 3,995.68, up 82.55 points or 2.11 percent from previous closing.

Opening higher from 3,942.01, the index headed north for most of the day, fluctuating within a range from 3,930.74 to 4,000.42, both higher than the closing of Friday. Although passing the milestone 4,000 mark for once, it failed to stick to the point till the end.

Shanghai Composite Index
Source: www.stockstar.com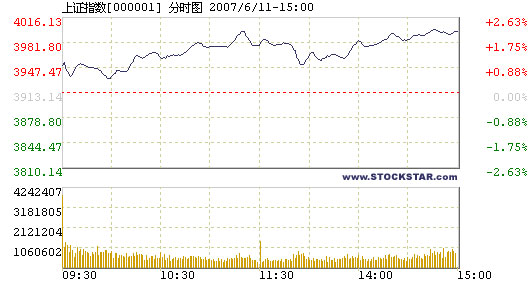 Total turnover of the stocks enclosed by the major indices was 276.8 billion yuan, slightly higher than that of last Friday.
Special coverage:
Markets Watch

Related readings:
Stocks finish above 3,900 points, 06/08
Chinese stocks surge 3.03%, 06/07
Stocks edge up amid price corrections, 06/06
At the Shanghai bourse, 548 stocks saw their prices rise, 232 fell and 59 ended flat. Hunan Huayin Electric Power rose 10.06 percent to 9.52 yuan as the top gainer. Hunan Haili Chemical Industry and Sichuan Guang'an AAA Public were also sealed at the maximum rising cap of 10 percent. Qingdao Yaohua Glass, however, dropped 5.07 percent to lead other "special treatment" stocks listed on the loser's list.

China Unicom, with the largest trading volume, rose 0.26 yuan, and Sinopec, with the largest transaction value, added 0.36 yuan to its share price. The hikes of the duo lifted the whole market.

The Shenzhen Component Index, tracking the smaller Shenzhen Stock Exchange, closed at 13,187.71, up 337.03 points or 2.62 percent. It went through the day within a range from 12,938.27 to 13,208.97.

Shenzhen Component Index
Source: www.stockstart.com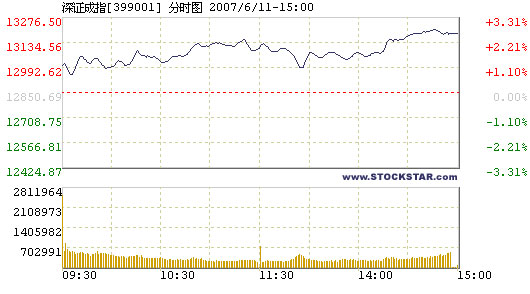 Of its A shares, 389 went up, 157 down and 65 unchanged. Chongqing Sanxia Paints was on top of the gainer's list, while Shenzhen Kondarl Group fell most. TCL, with the largest trading volume, fell; while China Vanke, with the largest transaction value, surged.
Stocks in the mining and agriculture industries gained the most from today's trading. Shanxi Xishan Coal and Electricity Power climbed 7.36 percent up to pioneer the mining sector. Machinery makers and food processors also performed well. On the other side, loss-making companies, or "special treatment" shares, took up all the places on the top loser's lists at the two exchanges.
B shares ended mixed. Of the 109 B shares listed on the two exchanges, 43 rose and 8 ended flat. Shanghai Automation Instrumentation was up 9.91 percent to 1.18 yuan.

| | | |
| --- | --- | --- |
| 1 | 2 | |
(For more biz stories, please visit Industry Updates)