Special coverage:
Markets Watch

Related readings:
Chinese stocks surge 3.03%, 06/07
Stocks edge up amid price corrections, 06/06
Stocks bounce back after plunging deep, 06/05
Following yesterday's robust growth, Chinese stocks slowed down the pace on an upward trend today. The Shanghai Composite Index closed at 3,913.14, up 22.33 points or 0.57 percent from yesterday's closing.

Opening higher from 3,900.03, the index dived first then turned around and stumbled to the highest 3,935.79 near the closing of the day. Of the many slides, the deepest was seen at the mid-morning session, when the benchmark index dropped to the lowest 3,852.05. From then on, plunges were never deeper than the gains, driving the index up to the closing level.

Shanghai Composite Index
Source: www.stockstar.com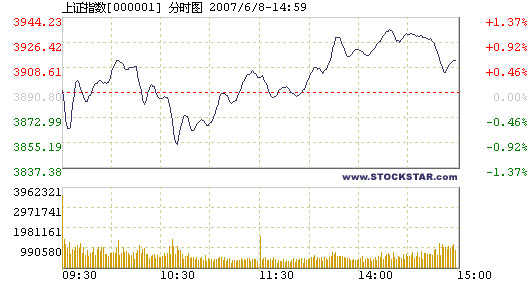 Total turnover of the stocks enclosed by the major indices was 274.3 billion yuan, slightly higher than that of yesterday.
At the Shanghai bourse, 551 stocks saw their prices rise, 215 fell and 73 ended flat. Beihai Gofar Marine Biological Industry rose 10.07 percent to 7.87 yuan as the top gainer. Cosun and Hunan Changfeng Motors were also sealed at the maximum rising cap of 10 percent. Jiangsu Jiangnan High Polymer Fiber, however, dropped 5.09 percent as the biggest loser.
China Unicom, with the largest trading volume, dropped 0.03 yuan, and Chalco, with the largest transaction value, added 0.69 yuan to its share price.
The Shenzhen Component Index, tracking the smaller Shenzhen Stock Exchange, closed at 12,850.69, up 154.68 points or 1.22 percent. It went through the day within a range from 12,580.43 to 12,930.19.
Shenzhen Component Index
Source: www.stockstar.com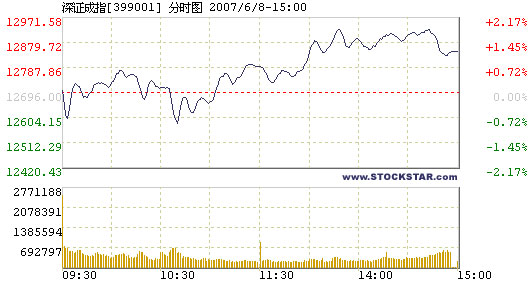 Of its A shares, 363 went up, 166 down and 82 unchanged. Dalian International was on top of the gainer's list, while (SST) Gansu Languang Science and Technology fell most. TCL with the largest trading volume went up, while China Vanke with the largest transaction value slipped.
Stocks in the construction and pharmaceutical industries continued their bull run. Zhejiang Hangxiao Steel Structure climbed 10.01 percent up to pioneer the construction sector. Textile and timber shares also performed well.
B shares ended mixed. Of the 109 B shares listed on the two exchanges, 74 rose and 11 ended flat. Hainan Pearl River Holdings was again sealed at the maximum cap of 10 percent and rose to 5.03 yuan. Closed-end funds listed on the exchanges were also strong.
After horizontal adjustments and a strong surge in the past two days, the stock market has started recovering from the losses in the previous week. At yesterday's closing, the total market value of all securities listed on the two exchanges was 16,844.7 billion yuan, up 1,051.4 billion yuan or 6.7 percent from that of Monday, when the stock indices had the biggest single-day drops in absolute amounts and hit the lowest points during the day after the stamp tax hike on May 29.

| | | |
| --- | --- | --- |
| 1 | 2 | |
(For more biz stories, please visit Industry Updates)