Special coverage:
Markets Watch

Related readings:
Stocks edge up amid price corrections
Stocks bounce back after plunging deep
Stock market sees biggest single-day slump in 10 years
After yesterday's quick shifts in corrections, Chinese stocks formed a clear upward trend today. The Shanghai Composite Index surged 114.49 points or 3.03 percent to 3,890.80 by the closing of the day.

Opening higher from 3,787.70, the index climbed up in waves with a few setbacks, none of which was deep enough to reverse the trend. The index hit the lowest point at 3,779.5 in a dive right after the opening. But then turned around and started escalating. The hike accelerated in the last half an hour, with the benchmark index hitting the highest point at 3891.40 just before the closing. For the whole day, it was always running above yesterday's closing level.

Shanghai Composite Index
Source: www.stockstar.com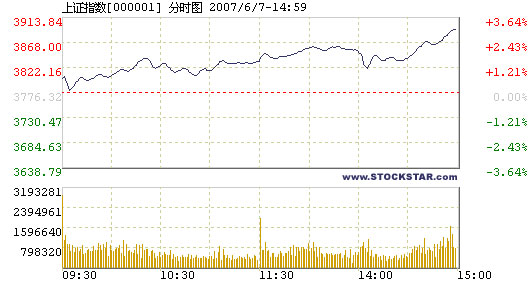 Total turnover of the stocks enclosed by the major indices was 269.7 billion yuan, larger than that of yesterday.
At the Shanghai bourse, as many as 754 stocks saw their prices rise, while merely 45 fell and 49 ended flat. Shanghai Shenhua Holdings rose 10.07 percent to 7.98 yuan as the top gainer. Xinjiang Friendship Group and Tianjin Quanye Bazaar Group were also sealed at the maximum rising cap of 10 percent. Jiangsu Sanfangxiang Industry, however, dropped 10.03 percent as the biggest loser.
China Unicom, with the largest trading volume, rose 0.07 yuan, and Sinopec, with the largest transaction value surged 4 percent to 14.82 yuan.
The Shenzhen Component Index, tracking the smaller Shenzhen Stock Exchange, closed at 12,696.01, up 357.82 points or 2.9 percent. Finishing at the daily highest point, it had 12,357.56 soon after the opening as the bottom level.
Shenzhen Component Index
Source: www.stockstar.com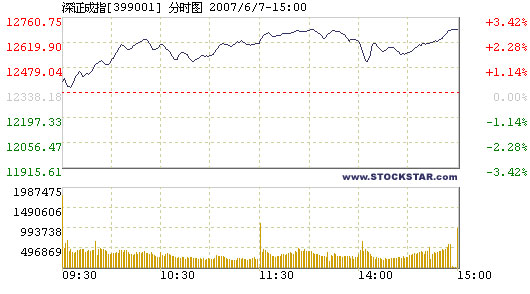 Of its A shares, 509 went up, 33 down and 69 unchanged. Northeast Electric Development was on top of the gainer's list while Lanzhou Sanmao Industry fell most. TCL and China Vanke, ranking on top in terms of trading volume and transaction value respectively, both had modest growth in share prices.
Stocks in the media, construction and pharmaceutical industries performed well. Beijing Gehua CATV Network climbed 3.08 percent to pioneer the construction sector.
B shares were up. Of the 109 B shares listed on the two exchanges, 71 rose and seven ended flat. Hainan Pearl River Holdings was again sealed at the maximum cap of 10 percent to 4.57 yuan. Closed-end funds listed on the exchanges were also strong.

| | | |
| --- | --- | --- |
| 1 | 2 | |
(For more biz stories, please visit Industry Updates)