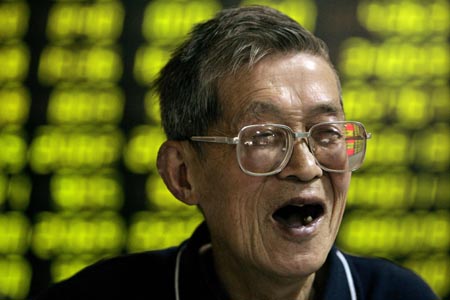 An investor stands in front of an electronic board at the stock exchange market in Shanghai June 4, 2007. China's main stock index tumbled more than 7 percent on Monday, adding to big losses suffered last week after the government hiked the share trading tax to cool speculation. [Reuters]
Today both of the benchmark stock indices had the largest single-day drops in absolute amounts in history, with the Shanghai Composite Index plunging 330.34 points or 8.26 percent to 3,670.40.
Starting lower from 3,981.82, the index failed to bounce back to the 4,000-point foothold, with 3,987.27 as the highest right after the opening. But soon it slipped all the way down to the lowest 3,659.09 with little resistance. The few, weak turning-backs did not stop the sliding.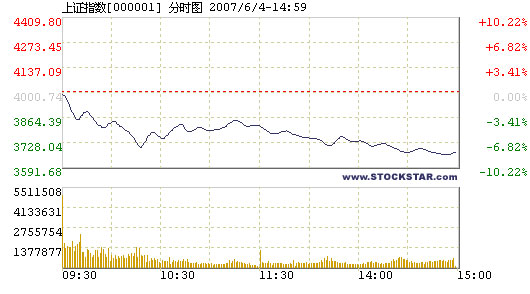 The Shenzhen Component Index, tracking the smaller Shenzhen Stock Exchange, closed at 11,468.46, down 964.23 points or 7.76 percent. It fluctuated throughout the day with a range between 11,464.23 and 12,468.58.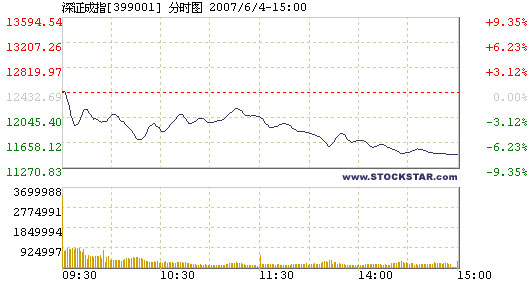 Total turnover of the stocks included by the Shanghai index and the Shenzhen Component Index was 220.3 billion yuan, much lower than that of last Friday.
Of the A shares listed on the two exchanges, only 25 saw their prices rising this morning, leaving 1,303 dropping and 122 unchanged. Heavyweight blue chips also failed to have the slightest growth to make the index look better.
The Industrial and Commercial Bank of China, Bank of China, China Unicom and Sinopec, ranking on top of the trading volume and transaction value on the Shanghai bourse, all slid to press the index down.
Shanghai Light Industry Machinery moved against the trend with a 10.01 percent rise to 18.25 yuan, while Hainan Donghai Tourism Center (Holdings) surged 5.04 percent, ranking on top of the few gainers in Shanghai and Shenzhen respectively.
B-shares fell, with 19 stocks closing up among the total of 109. Funds did not beat the downward trend today, with all the funds listed on the bourses went down.

| | | |
| --- | --- | --- |
| 1 | 2 | |
(For more biz stories, please visit Industry Updates)