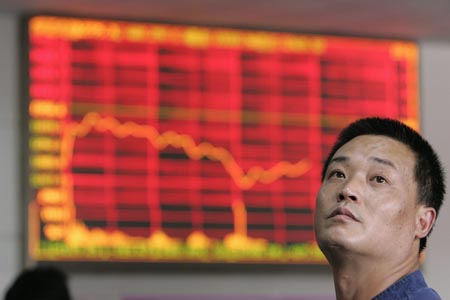 An investor looks at an electronic board at a stock exchange in Shanghai May 30, 2007. China's benchmark stock index tumbled 6.5 percent on Wednesday after the government hiked the stock trading tax in its strongest effort yet to cool rampant speculation. [Reuters]

The Chinese stock market had a "earthquake" today , caused by the stamp tax hike announced last night, and failed to recover from the "one-shock" loss by closing time.

The Shanghai Composite Index opened 247.51 points lower than yesterday's closing, and finished the day at 4,053.09, down 281.84 points or 6.5 percent.

Unlike previous tightening measures, this time the stamp tax hike is specifically targeting the stock market, and it openly expressed the regulators wishes to curb the heated market. As a result, the index did not digest the new policy change by a simple lower-opening. It failed to make a return to yesterday's closing level, but had a temporary rise, to 4,275.24 as the highest in the morning. Soon after trading resumed in the afternoon session, the index hit the bottom at 4,015.51.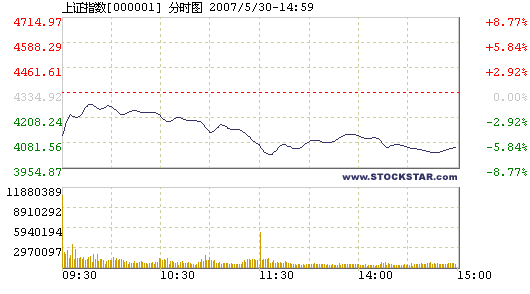 Turnover on the two exchanges was 415.3 billion yuan, another record. There were merely 69 shares went up today, but nearly 900 stocks closing near the maximum percentage of price slump.
Still there are stocks running against the trend. Jiangsu Sanfangxiang Industry had a 10.03 percent rise to 11.96 yuan, leading the other 42 stocks in Shanghai on the gainer's list. New stocks Anhui Annada Titanium Industry and Zhejiang Southeast Space Frame both saw their share prices doubled and ranked on top of the rising listed in Shenzhen with other 26 stocks.
China Unicom, seeing the largest trading volume in Shanghai, was down 8.17 percent. While Sinopec with the largest transaction value surged 3.29 percent to 13.5 yuan. China Vanke, with both the largest trading volume and transaction value in Shenzhen dropped 3.95 percent. B-shares also slumped, with only one stock rising but most of the rest of the 108 ones sliding.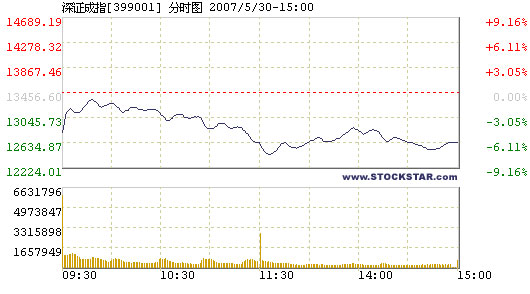 | | | |
| --- | --- | --- |
| 1 | 2 | |
(For more biz stories, please visit Industry Updates)