After a quick and deep slip, Chinese stocks bounced back and advanced to a new record high today, led by companies in the agriculture and real estate sectors.

The Shanghai Composite Index opened higher from 4,125.43 but dived to touch the lowest point of 4093.92 within half an hour this morning. Then it met strong support to turn around and closed at 4,173.71, up 63.33 points or1.54 percent, slightly lower than today's highest level of 4,175.44. The transaction value of the two stock exchanges was 336.18 billion yuan, on a similar level to that of yesterday.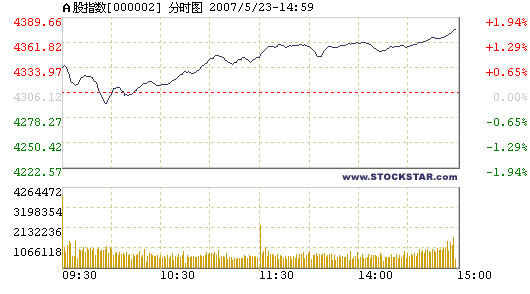 As many as 673 stocks went up, only 89 were down and 78 ended flat at the Shanghai Stock Exchange. Lanzhou Minbai Shareholding (Group) was the top gainer, with its share price rising 10.05 percent to 11.28 yuan. Xinjiang Urban Construction and Shanghai Yimin Department Stores also saw their share prices sealed at the maximum cap while Taiyuan Lionhead Cement dropped 5.21 percent as the biggest loser.
The Industrial and Commercial Bank of China, with the largest trading volume, rose 0.73 percent to 5.52 yuan. Shenergy, with the largest transaction value, was up 7.39 percent to 20.21 yuan.
The Shenzhen Component Index opened also higher and ended 1.74 percent up at 12,624.13. It went through the day within a range between 12,335.51 and 12,649.09. Of its A shares, 465 closed up, 52 went down and 92 ended flat.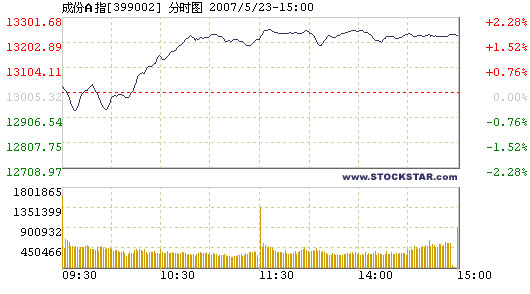 Zhejiang Qianjiang Motorcycle and Heilongjiang Tianlun Real Estate Development were the top gainers, while Jieli Industry led the fall at the Shenzhen Market. China Vanke ranked on top in terms of both trading volume and transaction value.
The agriculture sector led the surging tide today. The industrial index went up 4.12 percent. Fortune NG Fung Food (Hebei) surged 10.03 percent surge to 10.64 yuan and led the sector to the top gainer's list. Companies in the real estate industry were also among the best performers.

| | | |
| --- | --- | --- |
| 1 | 2 | |
(For more biz stories, please visit Industry Updates)