The central parity rate for the yuan against the US dollar reached a new high yesterday, the first trading day after the central bank widened its daily band against the greenback.
Related readings:


Yuan's value keeps on rising


China widens yuan trading band


China says yuan rate to reflect market


China to widen RMB floating range against US dollar

The new central parity rate was 7.6652, a 152 basis point gain from Friday's reference rate of 7.6804.

The People's Bank of China announced on Friday that it would widen the yuan's daily floating band against the US dollar from 0.3 percent to 0.5 percent, a move that took effect yesterday.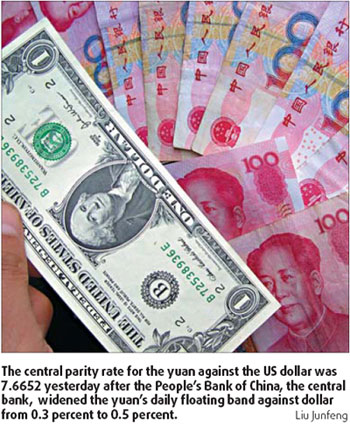 It means the yuan will be permitted to rise or fall by 0.5 percent each day from a mid-point set each morning.
The step came ahead of the strategic economic dialogue scheduled for May 22 to 23, when Beijing and Washington are expected to discuss such issues as trade and the yuan's exchange rate.
Zhao Xijun, finance professor with the Renmin University of China, said the move indicates steady progress in China's exchange rate reform and predicted the yuan will become more flexible. "China's financial sector has improved to an extent and can sustain a wider trading band of the renminbi ."
The central bank said the adjustment does not necessarily mean "the yuan will fluctuate by a lot or appreciate by a large magnitude".
Stephen Green, economist with Standard Chartered Bank (China), said: "This will of course trigger market expectations for more aggressive yuan appreciation, but we believe this is the wrong conclusion to draw."
"We expect the exchange rate of the yuan against the US dollar to become more flexible in the future, but in both directions," said Sun Mingchun, economist with Lehman Brothers. "We see this move as one aimed at gradually increasing the volatility of the exchange rate rather than speeding up the pace of appreciation."
(China Daily 05/22/2007 page13)