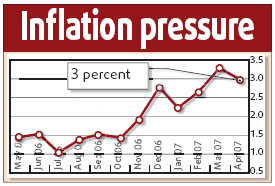 Inflation slowed to 3 percent in April, at the low end of market expectations but nudging the high end of the central bank's target zone, official figures showed yesterday.
Related readings:


China to continue economic hike


CPI eases, pressure for interest rates hike remains


A forecast of GDP in Q2
The
consumer price index
(
CPI
), the main gauge of inflation, rose 3 percent
year-on-year
last month, the National Bureau of Statistics (NBS) announced.
The growth is a touch lower than the 3.1 or 3.2 percent growth the market had expected. In March, the CPI rose 3.3 percent year-on-year, the highest for the past two years, after 2.2 percent and 2.7 percent in January and February.
Food price hikes are still regarded as the leading factor behind inflation, according to the NBS.
In April, food prices rose 7.1 percent over the same period last year while grain prices rose 6.1 percent. But they were 0.6 percentage point and 0.3 percentage point lower than in March. Food prices have a 33 percent weight in the CPI basket.
"Food supply is abundant after the government took action to rein in food price surges earlier this year," said Sun Mingchun, an economist with Lehman Brothers.
Usually, food prices spike during the Chinese New Year holidays, which fell in February this year, and fall afterward.
But in March, food prices fell only 0.4 percent month-on-month, which was less than the typical decline in the same month of previous years.
Given that the current price inflation is still above the 2.79-percent benchmark interest rate for one-year bank deposits, Sun believes the central bank will likely raise interest rates in the next two months.
The People's Bank of China, the country's central bank, warned of the risk of further rises in inflation in its first-quarter monetary policy report last Thursday.
The April CPI growth has pushed up consumer inflation from 2.7 percent in the first quarter to 2.8 percent in the first four months of this year, compared with the same period last year, according to the NBS.
That means the central bank has to watch inflation pressure more closely.
The Chinese economy soared by 11.1 percent in the first quarter of this year, raising fears of overheating.
Latest economic data did little to ease such worries.
The trade surplus rebounded sharply to nearly $17 billion in April after an abrupt drop to $6.9 billion in March.
With consumption and investment figures to be released this week all expected to remain strong the central bank may still reach for the brake pedal despite the current CPI drop.
Another indicator of inflation, the producer price index, rose 2.9 percent in April from 2.7 percent in March.
(China Daily 05/15/2007 page1)