SHANGHAI: After a three-day run, the Chinese stock market index fell 0.69 percent to close at 4,021.68 on Friday.
Analysts attributed the lull to a day of bookkeeping as exhausted investors paused to review their portfolios.
Related readings:


Video: Investors warned of stock risks

Hot market may cool: experts


Stock market boom entices new investors


Mainland market growing in volume, influence

The main indicator slipped 28 points, with 470 out of 907 stocks closing lower. The turnover on the Shanghai Stock Exchange was 183.26 billion yuan, down from the historic record high of 255.3 billion yuan, set on Wednesday.

The smaller Shenzhen Component Index fell 0.73 percent to close at 11,489.93. Unlike weak A-share performance, the foreign-currency denominated B-share index continued its run, climbing 3.85 percent to close at 289.21 on Friday.

Analysts said the minor setback on Friday was within expectations and the downward trend was expected to continue next week as investors watch possible government actions to cool the stock market.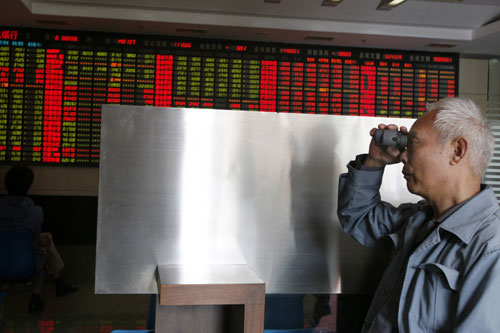 An investor uses binoculars as he monitors stock movements at a stock exchange market in Shanghai May 11, 2007. [Reuters]


"Rumors have it that the government may take action to curb the overheated stock market over the weekend," said Chen Wenzhao, an analyst from Changjiang Securities.

"One would expect more volatility around these levels until the market gets a clearer sense of what the authorities might do. If there is no clear new policy, I would expect prices to pick up their upward trend after a week," said Stephen Green, senior economist from Standard Chartered.

"A rate hike now is likely. It would kill two birds with one stone - take some of the air out of the stock market and signal the government's intention to make growth more sustainable," Green said.

But whether the government's money tightening policy will have any impact on the liquidity driven stock market remains in doubt, he said.

In a quarterly report released by the People's Bank of China (PBOC ) late Thursday, the central bank said it will try to prevent a drastic economic shift toward overheating.

"The report will have a bad effect on the market because it shows that the government is getting serious about measures to drain excessive liquidity," said Deng Hongguang, an analyst from Orient Securities.

Meanwhile, the PBOC on Friday issued 100 billion yuan three-year debt instruments to further mop up excessive liquidity in the market. "It is also a sign that the bank credit data in April has caused concern to the government," said Chen.

(China Daily 05/12/2007 page10)




(For more biz stories, please visit Industry Updates)