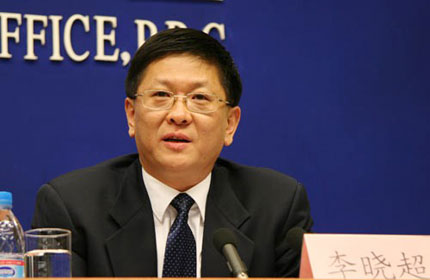 Li Xiaochao, spokesman of the National Bureau of Statistics, speaks at a press conference on China's economy in Beijing, April 19, 2007. [ciic]


The central government will introduce stricter controls on fixed-asset investment as well as rein in growth of liquidity and trade surplus, a statement posted on the State Council's website said Thurday.
The country's overall economic and social development is sound but outstanding problems exist, concluded an executive conference that the State Council held on Wednesday to analyze the economic situation.
Related readings:


 GDP grows 11.1% in first quarter


 Chinese shares slump amid worries of possible interest rate hike


 Property market still hot despite cooling measures


 Trade balance a sticking point


 Fixed assets investment up 23.7% in first quarter


 China's CPI rises 3.3% in March
The State Council stressed the need to strengthen macroeconomic controls to facilitate change in the growth pattern and prevent the economy from overheating.
In the first three months, domestic banks granted new loans of 1.42 trillion yuan ($184 billion), about half of what they had lent last year. Meanwhile, the country's fixed-asset investment went up 23.7 percent year-on-year, reversing the trend of a gradual slowdown since mid last year.
The State Council vowed to raise energy efficiency and environmental standards to rein in investment growth. It will also strengthen guidance for bank lending to check excess growth of money supply.
Unreasonable preferential policies for exports will also be looked at to check growth of trade surplus, according to the statement.
Stocks fall as GDP growth, inflation accelerates
Chinese stocks nosedived nearly five per cent Thursday amid fears of an interest rate hike to slow down the booming economy and curb inflation.
The benchmark Shanghai Composite Index, the most widely watched indicator of the mainland's stock market, lost 4.52 per cent to end at 3,449.01.
China's gross domestic product surged 11.1 per cent year-on-year, a 0.7 percentage point faster than the same period last year, said Li Xiaochao, spokesman for the National Bureau of Statistics Thursday.
The Consumer Price Index, a barometer of inflation, climbed 3.3 per cent in March, versus a central bank target of three per cent for 2007. That's the highest inflation rate in more than two years. Food stuffs accounted for most of the increase.
The data was originally scheduled for release at 10am Thursday, but was postponed to 3pm after the stock markets closed, fueling speculation that the regulator feared the figures might cause a significant drop in the equity market.
However, Li called the postponement "not a special arrangement' and added there are always ups and downs in the stock market. "That is the charm of stock market," he said.
Meanwhile, the Shenzhen Composite Index fell 4.92 per cent to 960.02, while the Shanghai and Shenzhen 300 Index of major companies went down 4.67 per cent to 3,150.30.
The property sector led the decline, with more than 70 per cent of the stocks falling more than five per cent. China Vanke, the country's biggest publicly traded property developer, declined 7.04 per cent to close at 17.44 yuan per share, while Poly China fell to the daily limit of 10 per cent to 31.49 yuan.