China's main stock index ended a nine-day rising streak in record turnover on Friday, causing some to think a long-awaited pull-back was starting after spectacular gains in recent weeks.
But with the market awash in new money and mutual funds continuing to attract huge amounts of fresh subscriptions, analysts said any fall was unlikely to be steep.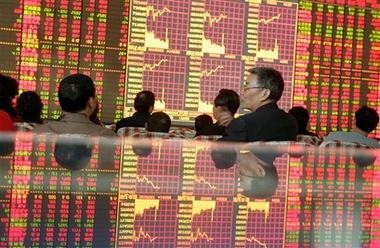 Investors watch stock movements at a stock exchange in Chengdu, in China's southwest Sichuan province on Friday, April 13, 2007. Chinese stocks fell Friday as investors sold to lock in profits from a nine-day winning streak amid mounting concern over a stream of pending initial public offerings. [AP]


The Shanghai Composite Index ended down 0.36 percent at 3,518.267 points, after setting an all-time high of 3,563.856 earlier in the day. Losers outnumbered gainers by 523 to 336.

Turnover in Shanghai A shares hit a record 165.6 billion yuan ($21.5 billion), up from 147.8 billion yuan on Thursday and the previous record of 155.6 billion yuan on Wednesday.

"Investors have been growing increasingly worried about the continued gains so this correction is quite natural, but I don't expect it to last long as it is still a bullish market," said Li Wenhui, analyst at Huatai Securities.


The index is up 22 percent from the end of February, and this week reached the 3,500 point level, which many investors had seen as a target.

Related readings:


Timing for index futures still a mystery

State pension fund seeks safe investments


Market value of stock exchanges continues to swell


Stocks surge through key barrier

China's securities regulator said late on Thursday that it would review next Monday an application by Bank of Communications for its Shanghai IPO, which could raise as much as US$3.5 billion if it is priced in line with the bank's H shares.

Money is so ample that the market should be able to absorb this IPO, as well as CITIC Bank's IPO next week, without trouble, analysts said.

But the large size of the offers could siphon some funds from other heavyweight bank stocks -- and the market has climbed so fast that any unexpected negative news, such as lukewarm demand for an IPO or a poor performance on listing, could hurt sentiment, some traders said.

"Investors want to cash in after recent gains, especially in the metals sector," said Zhang Qi, analyst at Haitong Securities.

Copper plays, which had surged in the previous two days, fell on Friday after Shanghai copper and zinc futures dropped around three percent following a failed attempt to drive London copper above $8,000 a tonne. Jiangxi Copper fell 2.71 percent to 24.37 yuan.

Many banks were weak with Industrial & Commercial Bank of China , the most heavily weighted stock, sinking 1.98 percent to 5.45 yuan.

Among other key blue chips, Baoshan Iron and Steel dropped 2.62 percent to 10.79 yuan as investors locked in profits after this week's surge on the back of a strong first-quarter earnings estimate.

| | | |
| --- | --- | --- |
| 1 | 2 | |
(For more biz stories, please visit Industry Updates)