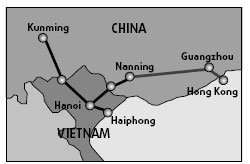 China will help Vietnam build four expressways that will eventually link up with two major cross-border arteries between the two countries.
A memorandum signed by China's Ministry of Communications and Vietnam's Ministry of Transport in Hanoi on Tuesday said China will provide "technology support," including feasibility research, design work and planning, to Vietnam's effort to build four expressways stretching to the country's border with China.
China will also recommend companies, like the China Road & Bridge Corporation, to handle the work, the memorandum said.
The four are the Hanoi-Youyiguan (Lang Son), Hanoi-Haiphong, Hanoi-Hekou (Lao Cai) and Hanoi Airport expressways.
Zhang Hongbin, an official with the communication ministry's department of international cooperation, said Vietnam would be responsible for raising money for the project.
Upon completion, the four expressways will be connected to expressways in Yunnan Province and the Guangxi Zhuang Autonomous Region to form two major cross-border passages.
"The expressways will become important passages allowing China and Vietnam to access each other's markets," Zhang said. "They will also strengthen economic cooperation between China and the ASEAN countries."
ASEAN is a 10-member grouping of Southeast Asian countries.
Zhang did not say when the four expressways would be completed.
On China's side, a 179-kilometer expressway linking the border city of Youyiguan and Nanning, capital of Guangxi, was completed and put into use in 2005.
Another 401-kilometer expressway linking the border city of Hekou and Kunming, capital of Yunnan Province, is to be completed this year.
In another development, officials in Southwest China's Yunnan Province on Wednesday signed a $373 million contract with Vietnam. The deal will cover 10 economic and trade cooperation projects.
The biggest project will be a $200 million shipyard in Vietnam that is to be jointly built by China's Yunnan Machinery Import and Export Company and the Vietnam Shipbuilding Industry Corporation.
The other projects are in the fields of mineral resources, cement, medicine, hydroelectricity and automobiles.
Statistics show Vietnam overtook Myanmar as Yunnan Province's chief ASEAN trade partner in January.