Inflation in China reached 2.7 percent in February, official statistics showed Tuesday, increasing the pressure on the central bank to raise the interest rate.
Consumer price index, a key indicator of inflation, rose 2.7 percent year-on-year last month, up from the 2.2 percent growth in January, the National Bureau of Statistics (NBS) said in a report on its website.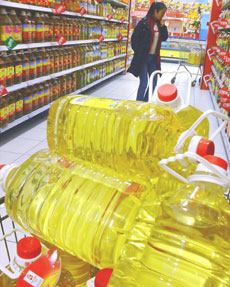 A consumer shops at a super market in Shanghai January 10, 2007. Inflation in China might reach a two-year high in February, according to a poll of 21 economists by Bloomberg News, increasing the pressure on the central bank to raise interest rate.  [newsphoto]
The price hike was mainly driven by rising food costs. Food prices surged six percent in February while non-food items rose just one percent, said the NBS. Among the food items, eggs and edible oil witnessed the biggest rises. They grew 30 percent and 17.4 percent, respectively.
The rural areas saw a bigger price increase than the urban areas, the report said, with a 3.2 percent growth for the farmers against a 2.5 per cent rise for the urbanites.
The combined increase for the first two month of the year is 2.4 percent. The People's Bank of China, the central bank, has set an annual target of 3 percent for inflation control.
The February figure was a sharp increase from the 1.5 percent rise in 2006, but slightly lower than the growth of 2.8 in last December.
The holiday generally distorts economic figures. China's biggest festival, the Lunar New Year fell in the middle of February this year and in mid-January last year.

Central bank governor Zhou Xiaochuan pledged to fight inflation Monday during a press conference on the sidelines of the annual session of the country's top legislature.
The current interest rate was appropriate, said central bank's vice governor Wu Xiaoling Sunday, according to reports. However, when asked about this issue again Monday, she refused to talk.