The trade surplus hit $15.88 billion in January, piling pressure on the government which has made it a priority this year to reduce the imbalance.
The figure was a 65 percent riseyear-on-year, although it dropped markedly from $21 billion in December, according to the General Administration of Customs.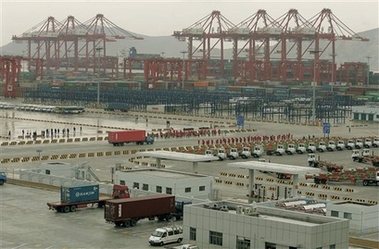 The newly-opened Yangshan deep water port in Shanghai, China, is seen in this December 10, 2005 file photo. China's surging trade surplus jumped 67 percent in January 2007 from the same month last year to US$15.88 billion, the General Administration of Customs said Monday, February 12, 2007. [AP]


Officials attributed the year-on-year increase to seasonal factors and because Spring Festival, which sees considerably less trading businesses, was in January last year.
The government has taken a series of measures to stop the surplus from widening. It has not only prohibited processing trade and scrapped export tax rebates in some high-pollution and energy consuming sectors, but also provided tax rebates to imports of parts and materials for key equipment.
The impact of these measures is expected to gradually materialize this year.
The increasing surplus has resulted in a testy relationship with some key trading partners such as the United States and the EU.
Washington has filed a complaint to the World Trade Organization claiming that the Chinese government grants industrial subsidies to exporters.
"I don't think the surplus will sharply decline this year, say by 50 percent," said Mei Xinyu, a trade expert at the Chinese Academy of International Trade and Economic Cooperation.