China's commercial banks are being encouraged to link their credit officers' income to the amount of well-performing loans granted to small businesses, China's Banking Regulatory Commission (CBRC) said in a new guideline posted on its Website.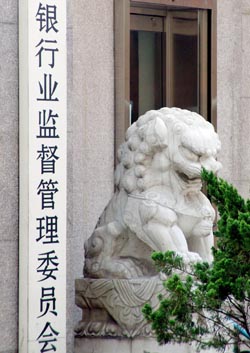 Gate of China's Banking Regulatory Commission is seen in this undated photo. [newsphoto]
The effort, which ties both the amount and quality of loans authorized to officials' salaries, is meant to ease the credit crunch facing the country's small businesses.
Under the plan, commercial banks will be allowed to simplify credit procedure for small enterprises and offer more flexibility on interest charges and repayment schemes.
"The regulator excluded medium-sized enterprises in the guideline as their credit management is similar to big enterprises, while for small companies credit is more complex and difficult," the banking watchdog said.
Details were not released on what constitutes a small enterprise, however.
A professional credit team comprising two client managers will be required to vet loan applications. The team may look at a company's utility-bill payment record to assess its creditworthiness.
Banks were also told to do a better job understanding the small-business community in assessing credit risk, the regulator said.
Banks normally prefer to lend money to big clients, which typically offer larger profit potential and better prospects for repayment, making it hard for small businesses to obtain loans for expansion and other purposes.
The lack of access to bank credit has caused many small businesses to seek financing on the black market, authorities said.
China's bank loans to small and medium-sized enterprises topped 2.64 trillion yuan (US$334 billion) at the end of June as the country beefed up financial support for smaller business entities, the banking watchdog said.
Related article: