22 mln "leftover children"
(Chinanews.cn)
Updated: 2006-07-06 11:25
"How about your study now?" "Fine." "Is your Mom OK?" "Yes." "How is everybody in the family?" "They are fine." "Ok, then I'll hang up."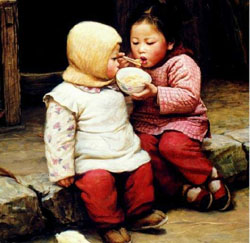 The phone call was made by a migrant worker from his hometown of Yanqing on the far outskirts of Beijing, and called back to his child recently. The total call lasted only 30 seconds. However, even this short conservation was a luxury to the family.
In China, with one or both parents going out to earn money, many children are left in their hometowns in the countryside. These children are called "leftover children". Some people say that the leftover children phenomenon is largely caused by poverty. Since 1978 when China began to introduce the reform and opening-up, more and more farmers flocked to big cities and as a result, a large number of leftover children have emerge.d Statistics showed that in 2004, China had a total of 22 million leftover children in the countryside.
Usually, the children's grandparents or their parent's friends or relatives look after these children. Sometimes these children are brought up by one of their parents at home. In most cases, their guardians are not quite educated. To them, making sure that the children are healthy and fed well is the most important task. If the children are safe and sound, they are considered to have done a good job. Guardians seldom care about children's study, their psychological needs, or mental demands. Neither do they spend some time to teach kids how to develop good habits.
Deputy director of the China Youth Research Center Sun Xiaoyun said that children need emotional support. The younger they are, the more emotional support they need. Most of the emotional support comes from their parents. For most of the time, problems of the leftover children largely arise from a lack of emotional care from their parents. If kids can go out with their parents together, many problems will disappear.
(For more biz stories, please visit Industry Updates)