Asiad Digest
Share - WeChat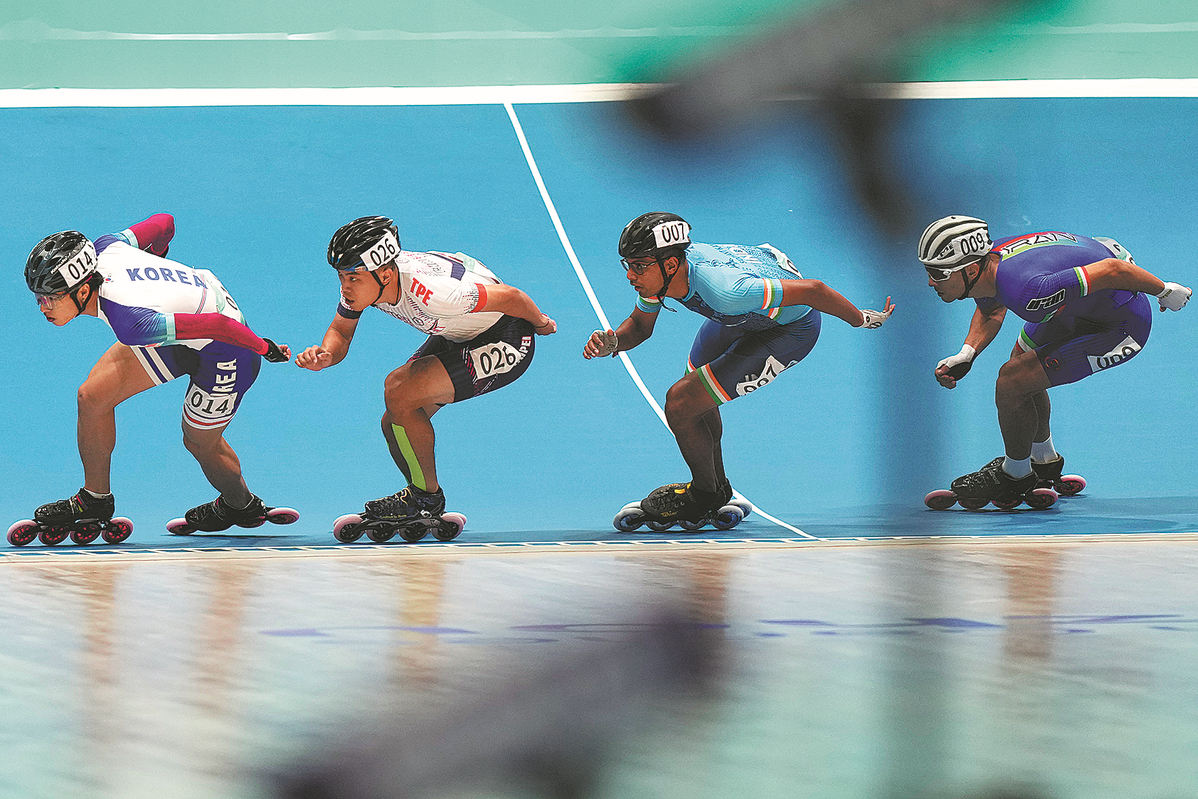 Roller skating
The Republic of Korea celebrated a bit too prematurely, thinking they had won the men's 3,000m relay race at Qiantang Roller Sports Centre on Monday. However, they got a rude awakening when the results showed that their longtime rival Chinese Taipei had pipped them at the post.
ROK had been leading for much of the race, and Jung Cheol-won raised his hands in a sign of victory while crossing the finish line, confident he and his teammates had won.
He was stunned, however, when the results appeared on the scoreboard, showing that Huang Yu-lin crossed one hundredth of a second earlier, giving Chinese Taipei a time of 4 min 05.692 sec.
Jung later apologized to his teammates and their supporters for his costly error.
"I made a rather big mistake," said the 27-year-old. "I didn't come at full speed to the finish line. I let my guard down too early. I am very sorry."
It was redemption time for Huang, though, who left the roller rink in tears on Sunday after being disqualified for a fault in the men's 1,000m sprint.
Weightlifting
Being the joint youngest weightlifter at the Hangzhou Asian Games, Darya Balabayuk of Kazakhstan, 16, said she enjoyed competing alongside teammate and friend Altynay Tanibergenova in the 59kg group B competition.
Balabayuk lifted a total of 179kg, six kilograms more than Tanibergenova, to rank eighth in the event. Tanibergenova ranked ninth. The event was won by Kim Il-gyong of the Democratic People's Republic of Korea with a lift of 246kg, a Games record.
"Yes, I knew we were the youngest, but we enjoyed it. We are only battling each other on the platform. In life, we are good friends."
Her highlight this year, she said, has been competing together at the World Youth Championships and the Asian Games.
"In terms of competition, it was about the same, but the venue here is much better. It's like the Olympic Games, with a big hall and a big crowd," she said. "My ambition is to try and reach the Olympic Games in Los Angeles (in 2028)."
She revealed she was introduced to the sport by her brother.
"I liked it and started training. My brother has finished with weightlifting, and now I'm stronger than him. He is 20. I think I can beat him at arm wrestling too."