Kicking it up a gear
Share - WeChat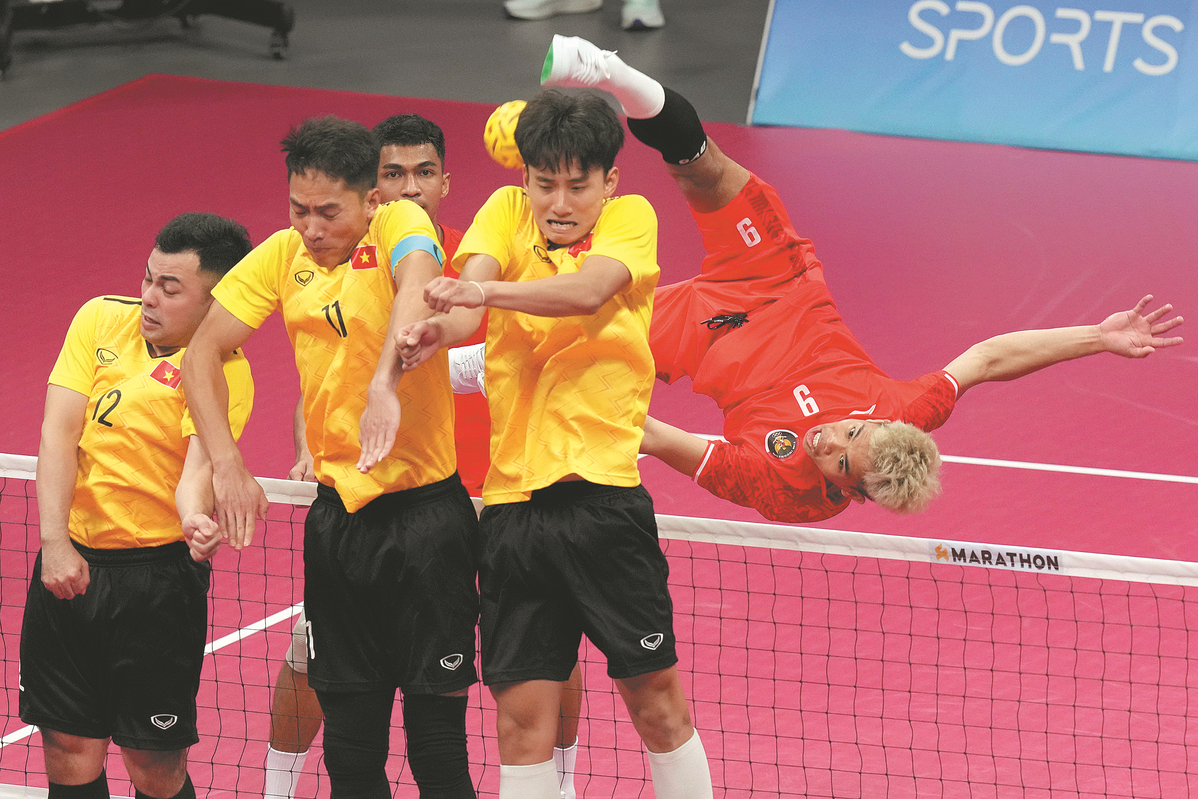 Sepak takraw is far more intense than its nickname "foot volleyball" suggests
Explosive kicks, dead-stop blocks and nets that unexpectedly ensnare like spiderwebs — sepak takraw matches have elicited gasps from amazed audiences at the 19th Asiad.
The sport is popular in Southeast Asian nations such as Thailand, Myanmar, Singapore and Malaysia -its country of origin — but remains little known outside of them.
However, the Hangzhou Games are providing a platform to expand its profile throughout the continent and, to some extent, even globally.
Players use their feet, ankles and knees to keep a rattan ball airborne and kick it over a net that bisects the court in an attempt to force the other team of two or three players to knock it out of bounds, earning the sport the nickname "foot volleyball". Directly translated from Malay, sepak means "kick" and takraw means "ball".
It's a technically and physically demanding sport that often requires players to kick with their feet at shoulder height or higher.
Sepak takraw can be traced to the 11th century, but largely took shape in the area around sultanate-ruled Malacca in the 15th century. That's when it developed from the leisurely activity of sepakraga, in which people would stand in a circle and keep a rage (rattan ball) off the ground as long as possible using only their heads and feet. At this time, it was very much like Western hacky sack -played with round, cloth bags filled with beads — or Chinese jianzi, which uses a weighted shuttlecock.
The introduction of competitive volleyball-like rules captured greater attention, especially following a demo match staged in Penang, Malaysia, in 1945.
Official rules were announced in 1960, after which the sport was introduced to the Southeast Asian Games. It was featured in the Asian Games as an exhibition sport in 1982 and as an official competition event at the 11th Asiad in Beijing in 1990.
Sepak takraw demands an extremely high level of coordination among team members.
For instance, every serve requires two players to work together because the position and height at which the ball is tossed to the server directly determines its quality.
Similarly, teammates need to pass the ball to the most optimal position for the striker to attack, and the best opportunities often present themselves in a split second.
Traditionally, teammates hold hands and swing their arms in unison after every round, no matter how well or poorly they've just played.