Tsingtao brew of choice for more suds lovers
By WANG ZHUOQIONG in Beijing and XIE CHUANJIAO in Qingdao, Shandong | China Daily | Updated: 2023-09-28 10:04




Share - WeChat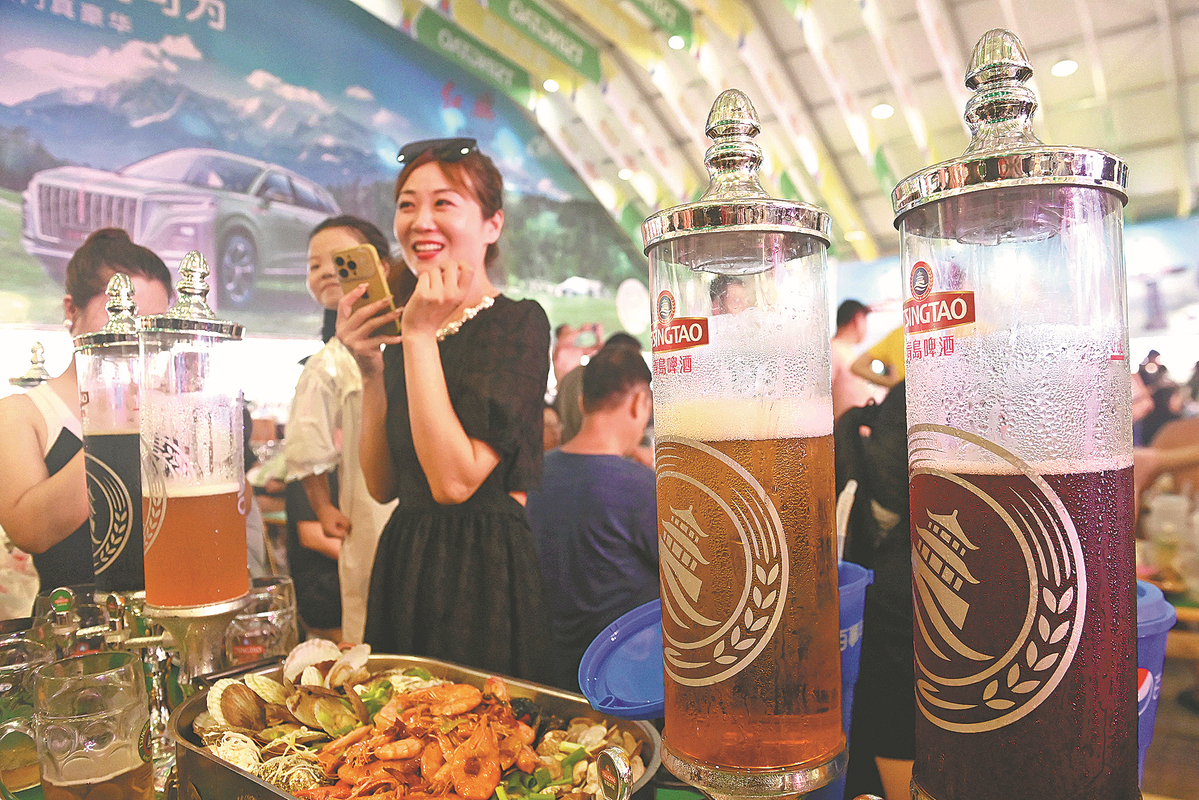 Tsingtao Brewery Co Ltd generated higher first-half top and bottom line growth rates, fueled by ongoing investments in middle- and high-end products.
In the first six months, the company achieved revenue of 21.6 billion yuan ($2.96 billion), up 12 percent year-on-year, selling 5.02 million kiloliters of beer, up 6.5 percent.
Net profit attributable to shareholders increased 20.1 percent to 3.43 billion yuan. Its core Tsingtao Beer product achieved sales of 2.81 million kl, up 8.2 percent. Medium- and high-end product sales grew 15 percent to 1.97 million kl, with sales of its medium and high-end products making up about 70 percent of its total sales.
China's beer market is the world's largest in terms of both production and consumption. Increasing profitability in the nation's brewing sector has been achieved by further optimizing capacity, improving product structure and adjusting prices.
The company has continued to carry out methods to optimize its brand and offer immersive experiences — for example, by bonding the brand with sports, music and other experiences to enhance and expand connections with consumers.
Innovations in supply chains, the cold chain in particular, have facilitated the delivery of the company's high-end craft beer products, said the company.
Digital transformation and intelligent manufacturing — from suppliers to wholesalers — are implemented rapidly to improve distribution operational capacity and efficiency, it added.
According to China Merchants Securities, Tsingtao Beer's strengths in wheat beer, craft brews and classic brands, and the continued rise in medium- and high-end product proportion, will contribute to the industry's structural upgrades and increase net profits.
Meanwhile, the brewer has focused on reinforcing its international and interactive brand outreach, as well as channeling innovation in foreign markets.
Its product portfolio has also evolved from one single classic product to a wide range of brands, including stout, wheat beer, Pilsner, Augerta, India pale ale, zero alcohol and soda water. Its international sales increased 5 percent year-on-year in 2022, with export value up 12 percent, both hitting new highs.
For example, former Liberian soccer player Wilson Nyanneh first tried Tsingtao Beer while playing overseas. Years later, in 2011, Nyanneh decided to introduce the beer to his motherland. The first batch of orders was successfully shipped in February 2012.
Eleven years on, Nyanneh now has a professional sales team of more than 20 people and has gradually improved the distribution network with the help of various promotional activities, achieving full coverage of all mainstream terminals in Monrovia, capital of Liberia — Tsingtao's largest market in Africa. Thus, Tsingtao has become the top imported beer in the West African country.
Tsingtao, which celebrates 120 years of brewing this year, has been expanding its market globally, especially since the Belt and Road Initiative was proposed 10 years ago.
In Nepal, Tsingtao Beer has become the "new standard" of the four-day traditional wedding banquet. In Kazakhstan, drinking Tsingtao has become a new fad along with eating Chinese food. Tsingtao now has more than 60 subsidiaries and factories nationwide, leading domestic peers in terms of scale and market share.
Tsingtao's international development started in 1948. Now, as one of the best-known Chinese brands globally, its beer is available in more than 120 countries worldwide, with many being in Europe, North America and Southeast Asia.
"In the international market, respect for local cultures and cultural exchanges are vital to us," said Chu Liangjing, deputy general manager of Tsingtao Brewery International.
At the same time, Tsingtao seeks to expand its influence by sponsoring local popular cultural activities and sporting events, including basketball games in Canada, parade floats in San Francisco, a marathon in Finland, and horse racing in Hong Kong.
In 2019, the Tsingtao International Beer Festival was held in Liberia and Uruguay, the first time that the iconic event appeared in Belt and Road Initiative countries.