The blossoming of a digital China
Share - WeChat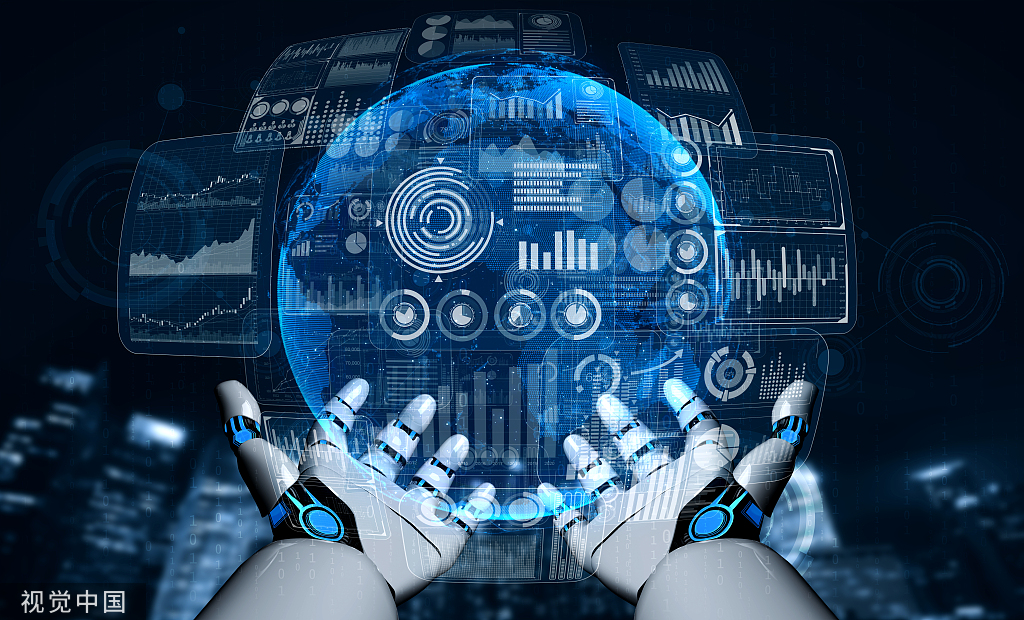 Recent years have witnessed China make tremendous strides in integrating digital technologies across the real economy. The latest Digital China Development Report indicates that, in 2022 alone, China's digital economy reached a scale of over 50 trillion RMB, cementing its position as the world's second largest. This intertwining of the digital and physical is birthing new industries, business models and innovations - injecting powerful new momentum into economic and social advancement.

President Xi Jinping, in his congratulatory letter to the 2023 China International Intelligent Industry Expo, remarked that "China attaches great importance to the development of the digital economy, and continuously promotes in-depth integration of digital technologies and the real economy." The deeper fusion of digits and atoms holds the key to constructing a digital China and cyberspace power.

At the Expo's exhibition hall, glimpses of this future reveal themselves through technologies like smart anti-fall clothing that uses chips for fall detection, intelligent curtains that sense humidity and close windows on rainy days, and augmented reality glasses that help the visually impaired "see" the world. The allure of digital transformation's promises tangibly dawn on visitors, stirring imaginings of impending smarter lifestyles.

Digitalization can enhance the quality of goods and services supplied, enabling a more dynamic balancing of supply and demand at higher planes. Through "offline production + online data analysis", traditional industries can explore personalized customization beyond scaled manufacturing. For instance, producers can first release small batches to the market, then leverage data analytics to segment demand and determine if expanded production is warranted.

Such flexible, asset-light supply chain models with rapid reaction times increase elasticity across research, manufacturing and distribution. This helps overcome limitations like high opportunity costs and long operation cycles associated with conventional supply chain architectures. By enabling more granular and precise supply-demand matching through tech-enabled operations refinements, productivity improvements can be unlocked.

The model is especially conducive for digital transformation of small and medium enterprises (SMEs), allowing them to compete with new "small-batch-quick-delivery" strategies and carve out unique advantages.

Utilizing digital tools to elevate coordination across entire industrial value chains can catalyze interconnected transformation and cross-sector partnerships in tradition industries. To alleviate digitalization "growing pains" for SMEs, some Industrial Internet enterprises actively harness emerging techniques to jointly nurture new digital ecosystems.

For instance, cloud platforms provide full-cycle services from R&D to production for over 50,000 SMEs - breaking past constraints imposed by legacy organizational, technological and spatiotemporal barriers. Engineers across different organizations can thereby collaborate to push digitalization for these SMEs, effectively resolving pressing problems like insufficient resources, know-how, talent or solutions.

Leveraging digitization's strengths to intelligently upgrade and transform conventional industries' production processes can impart qualitative changes in physical factories. One elevator factory in Hangzhou, Zhejiang province improved productivity to producing one elevator every two minutes after intelligent upgrades.

On the production end, online quality monitoring and management across the entire design-to-delivery cycle on digital platforms actualizes enhancements in manufacturing efficiency, quality control and environmental performance. On the after-sales end, "engineering brains" applying sophisticated Internet of Things technologies can precisely capture elevators' real-time operating status for the swiftest maintenance and functionality assurance.

Proactively harnessing digital techniques can thus precipitate enterprise-wide transformation encompassing design, production, manufacturing, transportation, services and after-sales. This contributes toward advancing intelligent, high-end and green development, unlocking new growth opportunities.

In today's era, digital technologies progressively permeate every sphere of socioeconomic activities. The digital economy represents a strategic choice to seize fresh opportunities unleashed by the latest scientific-technological and industrial revolutions. It has emerged as a new driver spurring traditional industrial upgrading, high-quality growth and continuous improvements in people's wellbeing. As integration between digital technologies and the real economy grows deeper, it can continuously spawn vigorous new innovations and technologies propelling society's advancement to new heights.
The author is a Beijing-based commentator. The views don't necessarily reflect those of China Daily.
If you have a specific expertise, or would like to share your thought about our stories, then send us your writings at opinion@chinadaily.com.cn or comment@chinadaily.com.cn.
Most Viewed in 24 Hours
China Views