Breaking the cycle
Share - WeChat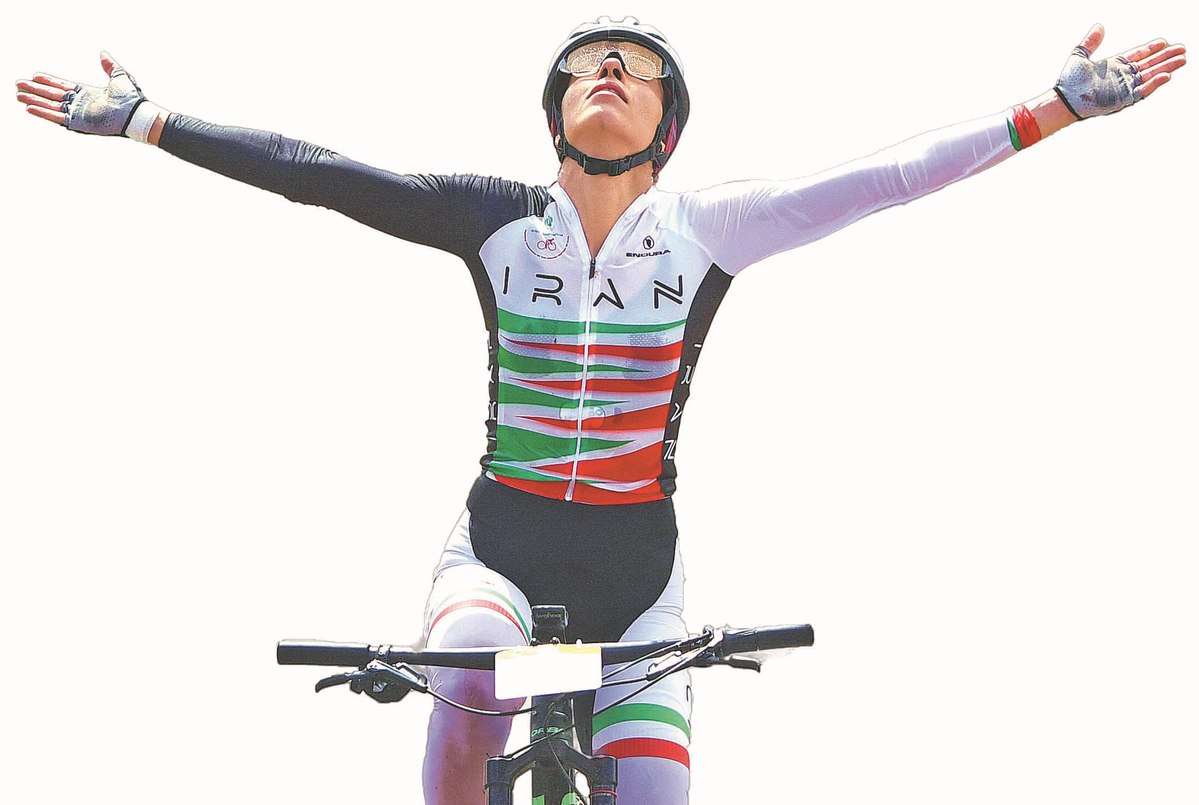 Iranian mountain biking bronze medalist shows that nothing is impossible and hopes to inspire more women back home to follow their sporting dreams
Upon crossing the finish line, Iran cyclist Faranak Partoazar spread her arms wide and celebrated with unrestrained joy. However, a moment later she lay on the ground with tears streaming down her face.
She won the bronze medal in the women's mountain bike cross-country event at the Chun'an Jieshou Sports Centre on Monday at the 19th Asian Games.
"It means a lot. I've been waiting for five years. I've been through a lot of hard times, and it means more than just a medal for me and for my country," said the 35-year-old cyclist, who came agonizingly close to medaling at the Asian Games in Jakarta in 2018, finishing fourth.
"Once, being at the Asian Games and getting a medal was really an impossible task for us in Iran, but that changed from today," she said.
Born in 1988 in Shiraz, a city in the south of Iran, she began competitive road cycling around 2011 and then switched to mountain biking in 2014.
Ever since she has won numerous national titles in Iran, as well as claiming the first-ever Asian championship medal in Iranian women's cycling history.
At the 2018 Asian Games, the chain of Partoazar's bike broke, costing her a lot of time in the first lap. "I tried to compensate, but I couldn't, so I got fourth," she recalled.
Her journey to reach the Asian Games stadium was far from smooth. Prior to the Hangzhou Asiad, while she was training for other races in Iran, she experienced a severe crash that resulted in a significant wrist injury and ligament damage. Just last week, she also caught a cold.
"Luckily the base that I built in the winter with my team at the (training) camp meant that I could still keep my level and my performance in this race, even though the conditions were not really in my favor," she said.
In Monday's women's mountain bike cross-country, Chinese cyclist Li Hongfeng and Ma Caixia finished first and second respectively. Partoazar was about six seconds behind the runner-up.
She thought the race was really tough, noting that, for her, the competition is not only about legs, but also the track and the weather.
"I made a plan with my coach to make a pace that's possible to maintain for four laps. The race is finished when it's finished, and not after two or three laps. I think I showed that by maintaining a constant pace you can win a medal," she said.
The long stretches of climbing added to the difficulty of the course, reckoned Partoazar.
"I enjoyed riding such a hard course, because it pushed me to my limits and that's the reason that we all love this sport," she said.
A week ago, she celebrated her 35th birthday, making her the oldest participant in this event. "Looking at many top athletes in the world, you realize it's not all about age. Every athlete is individual and you cannot decide by age if someone's career is finished," she remarked.
From her perspective, sports know no bounds; people of any race, gender or age can partake in them. "Mountain biking really taught me confidence and how to believe in myself," she said.
The Asian Games were just her second goal this year. "My main goal is to qualify for the 2024 Olympics and I will do everything I can to achieve that," she said.
In addition to cycling, she is always eager to share her personal journey, inspiring more women and youngsters to follow their dreams.
She believes that her medal will be a huge inspiration for young women in Iran, "because we always look for examples and you have to believe that something is possible".
"Getting this medal shows that there are so many talented women in Iran and that they can continue forging this path. I made it easier I hope, and next time we can get more medals," she said.