Northeastern province makes headway on rural front
Share - WeChat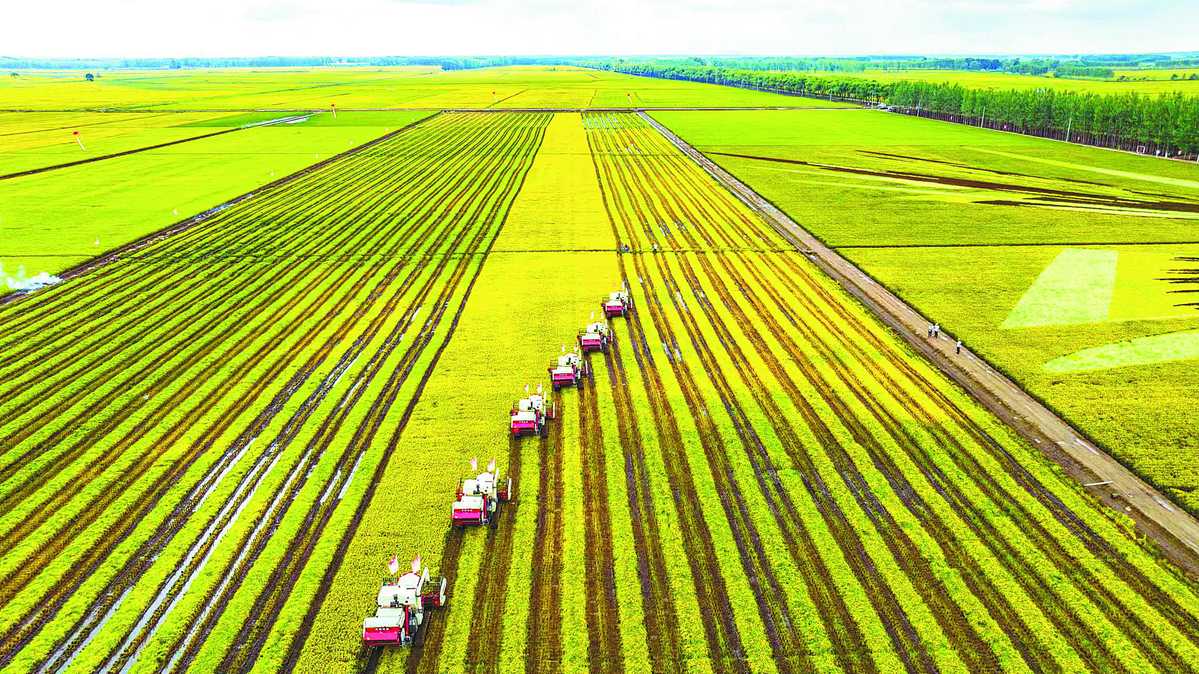 Agriculture modernized, harvests improved, tourism boosted
As autumn approaches, areas of farmland in Heilongjiang province are turning golden and farmers are looking forward to another bumper harvest.
Last year, 77.6 million metric tons of grain were harvested in the province, accounting for 11.3 percent of the national total, National Bureau of Statistics data show.
With a pristine environment and the world's largest area of black soil, Heilongjiang leads the nation in the amount of land devoted to planting rice, corn and soybeans, boasting the highest annual yield of these crops nationwide.
President Xi Jinping, ending a three-day inspection tour to the northeastern province on Sept 9, urged it to act as a good stabilizer in safeguarding China's food security.
Xi, who is also general secretary of the Communist Party of China Central Committee and chairman of the Central Military Commission, said Heilongjiang should promote its agricultural modernization and place greater emphasis on developing science and technology related to agriculture.
While the province should accelerate the construction of modern agricultural bases, enterprises and industries, Xi said it should also strive to take the lead in achieving modernization in agricultural equipment, technology, management, agricultural informatization and sustainable use of resources.
It is a priority for the province to develop its black soil into high-standard farmland and effectively protect it, he said.
Xi also emphasized the efforts made by Heilongjiang to advance the modern seed industry, promote the widespread use of advanced and appropriate technologies, high-end agricultural machinery, and improve the overall efficiency of grain production.
In recent years, Heilongjiang has focused on scientific and technological innovation, constantly made efforts to improve agricultural informatization and intelligence, and comprehensively advanced the use of digital technology in agricultural production to increase grain output and guarantee national food security.
Zhou Dehua, who has worked the land at Qixing Farm, Fujin, on the Sanjiang Plain, a major rice-growing area in Heilongjiang, for more than 20 years, said modern farmers in the province are benefiting from the power of technology.
"Last year, I made a good profit from my 27 hectares of rice. With the help of modern agricultural technology and machinery such as unmanned rice planters and drones, I believe that this autumn I will see high-quality rice and high yields," he said.
"Take crop-dusting for example. In the past, we spent at least three days finishing a single round of operations on my 27 hectares of rice paddies. Now, with the help of plant protection drones, this work can be done in just two hours."